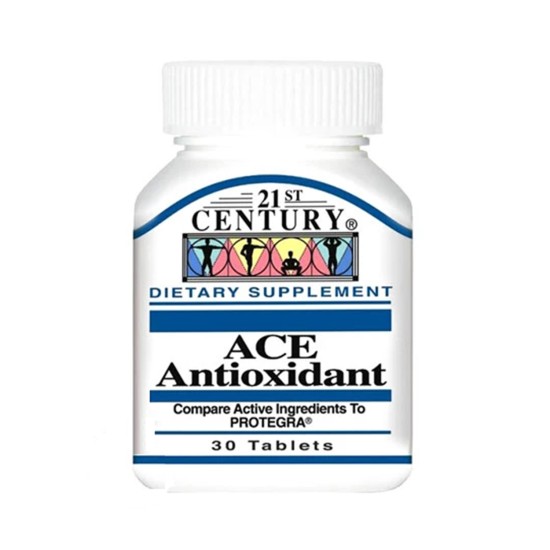 21st Century ACE Antioxidant 30 Tablets
21st Century
AED 29.25
AED 39
(VAT inc.)
Dietary Supplement
Free from added Salt, Yeast and Preservatives
Vitamins A, C, and E, the complete antioxidant nutrient group, that helps neutralize free radicals which may cause cellular damage in the body. Combined with the essential minerals; Selenium, Zinc, Copper and Manganese, which assist in neutralizing free radicals aiding in cellular protection.
As a dietary supplement, adults take one (1) tablet daily with any meal or as directed by a healthcare provider. Do not exceed recommended dosage. Individual results may vary.
Vitamins A, C And E Combined With The Essential Minerals Selenium, Zinc, Copper And Manganese For A Comprehensive Antioxidant Formula, Cellulose, Starch, Gelatin, Croscarmellose Sodium. Ascorbyl Palmitate, Dl-Alpha Tocopherol, Hydroxypropyl Methylcellulose, Magnesium Stearate, Peg, Polyvinyl Alcohol, Silicon Dioxide, Sodium Aluminosilicate, Stearic Acid, Sucrose, Talc, Titanium Dioxide, Water.