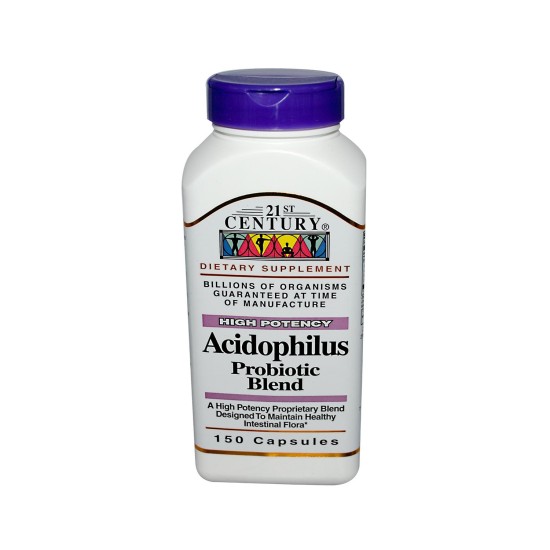 21st Century Acidophilus Probiotic Blend High Potency 150 Capsules
21st Century
No added sugar, salt, artificial flavors, colors or preservatives
Maintain healthy intestinal flora
A proprietary blend of the most beneficial known strain of Lactobacillus acidophilus, synergistically combined with three other genetically distinct probiotic organisms and the prebiotic Fructooligosaccharide (FOS), is designed to aid in the maintenance of probiotic activity in the intestine.Billions of Organisms guaranteed at time of manufacture. Proprietary Blend Designed to Maintain Healthy Intestinal Flora• No Added Sugar, Salt, Artificial Flavors, Colours or Preservatives.
As a dietary supplement, adults take one (1) capsule daily with any meal or as directed by a healthcare provider. Do not exceed recommended dosage. Individual results may vary.
Lactobacillus Acidophilus, Lactobacillus Salivarius, Bifidobacterium Bifidum, Streptococcus Thermophilus, Whey, Inulin, Gelatin, Cellulose, Citrus Pectin. Magnesium Stearate, Silicon Dioxide.