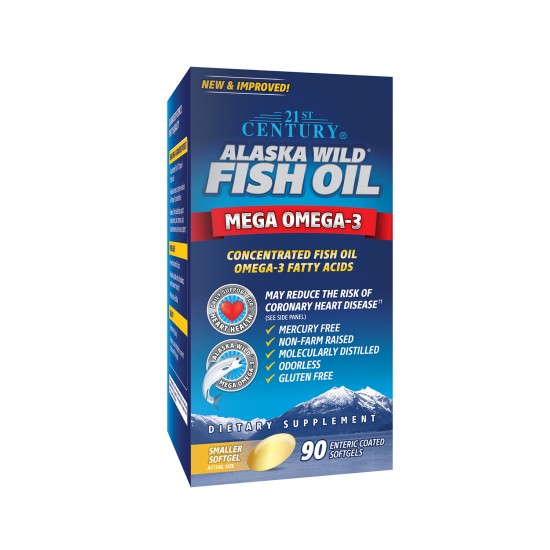 21st Century Alaska Wild Fish Oil Mega Omega-3 90 Softgels
21st Century
AED 141.75
AED 189
(VAT inc.)
Easy to swallow, smaller softgels
Non-Farm raised
Orderless
Molecularly Distilled
Heart Health
Daily support
No fishy aftertaste
Enteric coated softgels to prevent reflux and fish burps
Free from added Sugar, Salt, Yeast, Harmful toxins, Gluten, Mercury and Artificial Flavors
Enteric Coated to Avoid Upset Stomach, Aftertaste & Reflux! Supportive but not conclusive research shows that consumption of EPA and DHA Omega-3 fatty acids may reduce the risk of coronary heart disease. See supplement facts for fat and cholesterol content. • Guaranteed Potency, Purity and Quality • Easy to swallow, smaller softgels • Non-Farm raised •Orderless• Molecularly Distilled • Heart Health - Daily support. • No Fishy aftertaste - Enteric coated softgels to prevent reflux and fish burps• 1350 mg Total EPA/DHA Omega-3 per Serving• Free from added Sugar, Salt, Yeast,Harmful toxins, Gluten, Mercury and Artificial Flavors.
As a dietary supplement, adults take three (3) softgels daily with any meal or as directed by a healthcare provider. Do not exceed recommended dosage. Individual results may vary.
Fish Oil, Total Epa/Dha Omega-3 (1,350 Mg), Epa (Eicosapentaenoic Acid)965 Mg, Dha (Docosahexaenoic Acid), Gelatin, Glycerin, Water, Ammonium Hydroxide, Ethylcellulose, Medium Chain Triglycerides, Oleic Acid, Sodium Alginate, Stearic Acid, Vanillin.