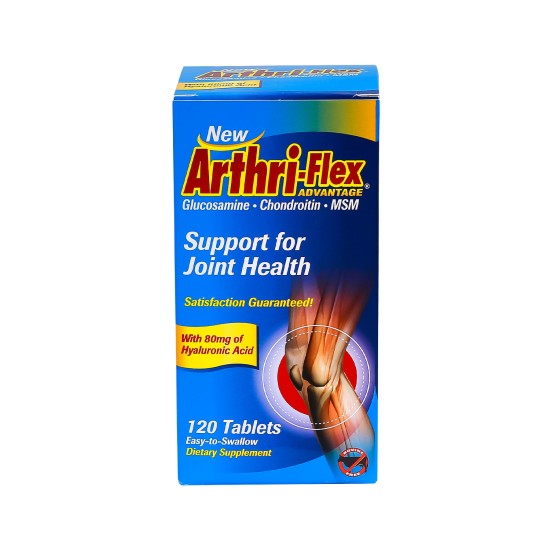 21st Century Arthri-Flex Advantage 120 Tablets
21st Century
Support for Joint Health
Easy-to-swallow
Contains glucosamine sulfate derived from shrimps and crab shells
Bovine Free
Free from added Sugar, Starch, Soy Yeast, Corn, Dairy, Gluten, Preservatives and Artificial Flavors
Arthri-Flex Advantage is an effective joint support formulas developed from the latest studies on joint nutrition science. Arthri-Flex combines Glucosamine Sulfate, naturally occurring Chondroitin Sulfate, and MSM (Methylsulfonylmethane) with FLEXICOL (a blend of premium Type II Chicken Sternum Collagen that naturally contains both Chondroitin Sulfate and Hyaluronic Acid) and other synergistic herbal extracts and mineral compounds to be a valuable supplement for healthy functioning joints and cartilages. • Support for Joint Health • Easy-to-swallow. •Contains glucosamine sulfate derived from shrimps and crab shells. • Bovine Free. • Free from added Sugar, Starch, Soy Yeast, Corn, Dairy, Gluten, Preservatives and Artificial Flavors.
As a dietary supplement, take four (4) tablets daily, two (2) in the morning and two (2) in the afternoon, preferably with meals, or as directed by your healthcare provider. Do not exceed recommended dosage. Individual results may vary.
Vitamin C, D3, Magnesium, Zinc, Copper, Manganese, Molybdenum, Potassium (As Potassium Chloride), Glucosamine Sulfate, Msm (Methylsulfonylmethane, Hyaluronic Acid, Proprietary Blend,Cellulose, Stearic Acid. Bha, Bht, Croscarmellose Sodium, Gelatin, Magnesium Stearate, Maltodextrin, Peg, Polyplasdone, Polyvinyl Alcohol, Silcone Dioxide, Starch, Sucrose, Talc, Titanium Dioxide, Vegetable Oil, Water.