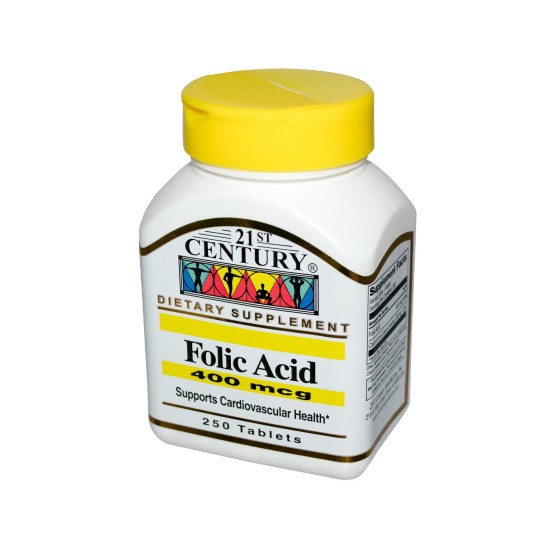 21st Century Folic Acid 400mcg 250 Tablets
21st Century
AED 44.25
AED 59
(VAT inc.)
Supports Cardiovascular Health
Free from Added Sugar, Salt, Yeast, Preservatives, Artificial Flavors or Colors
Unconditionally guaranteed for purity, freshness and label potency
Folic acid is an important B vitamin that supports heart health. Women who consume healthful diets with adequate levels of folic acid may reduce their risk of having a child with birth defects of the brain or spinal cord. Folic acid intake should not exceed 250% of the DV(1,000mcg). • Supports Cardiovascular Health• Free from Added Sugar, Salt, Yeast, Preservatives, Artificial Flavors or Colors.• Unconditionally guaranteed for purity, freshness and label potency.
As a vitamin supplement, adults take one (1) tablet daily with any meal or as directed by a healthcare provider. Do not exceed recommended dosage. Individual results may vary.
Folate, Calcium, Cellulose, Maltodextrin, Croscarmellose Sodium, Stearic Acid. Contains ≪2% Of: Magnesium Stearate, Silicon Dioxide.