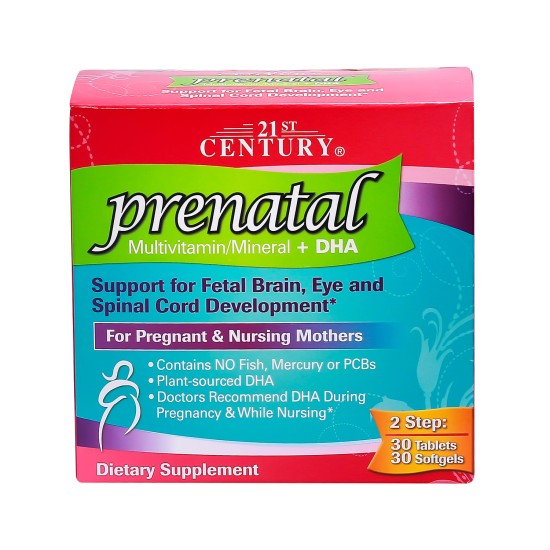 21st Century Prenatal Multivitamin DHA 30 30 Tablets Softgels
21st Century
AED 96.75
AED 129
(VAT inc.)
Helps Support Healthy Fetal Brain, Eye & Spinal Column Development
Contains no Fish, Mercury or PCB's
Plant sourced DHA
Doctors Recommend DHA During Pregnancy and While Nursing
Clinical studies have shown that taking 200mg of DHA during pregnancy and while nursing a child can provide significant support in the healthy development of brain and eye function. In fact, many doctors specifically recommend that pregnant women and nursing mothers take a multivitamin and consume 200mg of DHA per day to help their baby develop during these important times. The unique DHA in 21st Century Prenatal Multivitamin + DHA is a patented, ultra-pure and completely fish-free DHA to support your baby's healthy brain and eye development.• Helps Support Healthy Fetal Brain, Eye & Spinal Column Development• Contains no Fish, Mercury or PCB's• Plant sourced DHA• Doctors Recommend DHA During Pregnancy and While Nursing.
As a dietary supplement for pregnant and nursing women, take one (1) tablet and one (1) softgel daily with a meal or as directed by a healthcare provider. Do not exceed recommended dosage. Individual results may vary.
Vitamin A, C, D3, E, Thiamin, Riboflavin, Niacin, Vitamin B-6, Folate, Vitamin B-12, Calcium, Iron, Zinc, Cellulose, Starch, Stearic Acid, Maltodextrin, Ascorbyl Palmitate, Bha, Bht, Croscarmellose Sodium, Dl-Alpha Tocopherol, Gelatin, Gum Arabic, Hydroxyproply Methylcellulose, Magnesium Silicate, Magnesium Stearate, Peg, Polyvinyl Alcohol, Silicon Dioxide, Sodium Aluminosilicate, Sucrose, Titanium Dioxide, Vegetable Oil, Water.