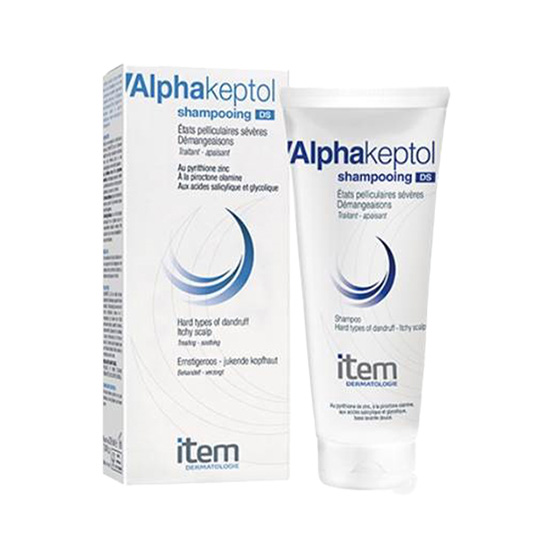 Dermagor Alphakeptol Anti Dandruff Shampoo 200ml
Dermagor
The hair keeps a silky and shining look
For persistent dandruff and itchy scalp
Dermagor Alphakeptol Anti Dandruff Shampoo 200ml: Antifungal treatment. Hair and body care with antifungal, reducing, and soothing effects, ensures a lasting improvement of severe dandruff conditions and relieves itching from the first use. Thanks to its 4 specific agents, Alphakeptol ensures proper hygiene in severe cases of dandruff for both greasy and dry scalp, whether or not accompanied by itching. Zinc pyruthion and piroctone olamine, both powerful fungicides, inhibit the proliferation of yeasts and other germs present on the skin and scalp. Salicyclic acid controls the formation of dandruff, cleanses the scalp, and soothes itching. Alpha hydroxy acids improve the cutaneous state of scalp imbalance and sensitized skin, with a hydrating effect accompanied by the gentle regulation of cell renewal.
2 to 3 shampoos per week depending on the severity of the dandruff state are recommended.
Salicylic Acid: Keratolytic Agent, It Decreases The Formation Of Dandruff, In Size And Number By Dissociating The Bonds And The Intercorneocyte Bridges; Pyrithione Zinc: Antifungal And Emollient, It Reduces Desquamation, Eliminates Dead Cells, And Limits Itching. Piroctone Olamine: Proven Antifungal And Antibacterial Action And Antioxidant Activity. Activity Stimulated By Glycolic Acid Improves The Penetration Of Piroctone Olamine. Glycolic Acid: Gentle Chemical Exfoliant, Regulates Cell Renewal. Moisturizing, Softens, Softens And Improves The Epidermal Surface Condition For Better Skin Comfort. Potentiates The Effect Of Piroctone Olamine.