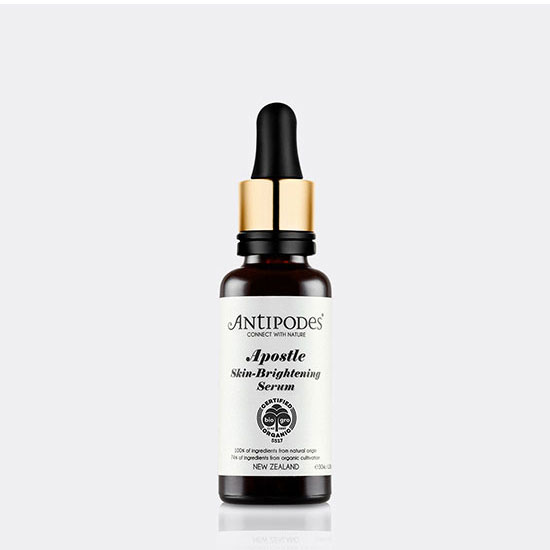 Antipodes Apostle Skin Brightening Serum 30ml
Antipodes
This water-based serum helps correct dull, blemished or uneven skin. The revolutionary antioxidant Vinanza Grape & Kiwi helps minimise the appearance of facial redness. Exfoliating enzymes from the superfruit kiwifruit and soothing Vinanza Oxifend from pinot noir grapes leave skin gloriously glowing. Meanwhile, mamaku black fern and Reishi mushroom of immortality boost healthy cell renewal for true, fresh-faced beauty.Elements of Beauty: Waiwera artesian water * Vinanza Grape & Kiwi * Vinanza OxifendPure Plant Fragrance: Green apple & cardamone30ml / 1.0fl ozDaily RitualApply liberally to face, neck and décolletage morning and night before your favourite Antipodes moisturiser or face oil. Get best performance from daily use. Suited to all skin conditions, especially pigmented.
Use every morning and nightUsing your fingertips, gently rub a few drops into your face, neck and décolletage.How to use image
Ingredients: Aqua (Waiwera®) Water, Cyathea Medullaris (Mamaku Black Fern) Leaf Extract, Gluconolactone, Sodium Benzoate, Amigel® (Sclerotium Gum), Vitis Vinifera (Vinanza® Pinot Grape) Skin Extract, Caprylyl/Capryl Glucoside, Dehydroacetic Acid, Benzyl Alcohol, Xanthan Gum, Sodium Hydroxide, Vitis Vinifera (Vinanza® Grape) Seed Extract, Actinidia Deliciosa(Vinanza® Kiwi) Fruit Extract, Rubus Idaeus (Raspberry) Seed Extract, Aloe Barbadensis (Aloe Vera) Leaf Extract*, Gandoderma Lucidum (Reishi Mushroom) Extract. Fragrance Of Green Apple & Cardamon: Benzyl Alcohol, Cinnamal, Citral, Citronellol, Geraniol, Limonene, Linalool. *Certified Organic By Biogro Formulated Without: Antipodes Products Are Completely Free From: Parabens; Sulphates; Phthalates; Silicon Derived Ingredients; Synthetic Fillers; Genetically Modified (Gm) Ingredients; Genetically Engineered (Ge) Ingredients; Animal Ingredients (Except Ingredients From Living Bees, Such As Honey); Artificial Colors; Artificial Fragrances; Chemical Sunscreens; Mineral Oils; Petrochemicals (Like Propylene Glycol); Bha (Butylated Hydroxyanisole); Ethanolamines And Ethoxylated Ingredients.