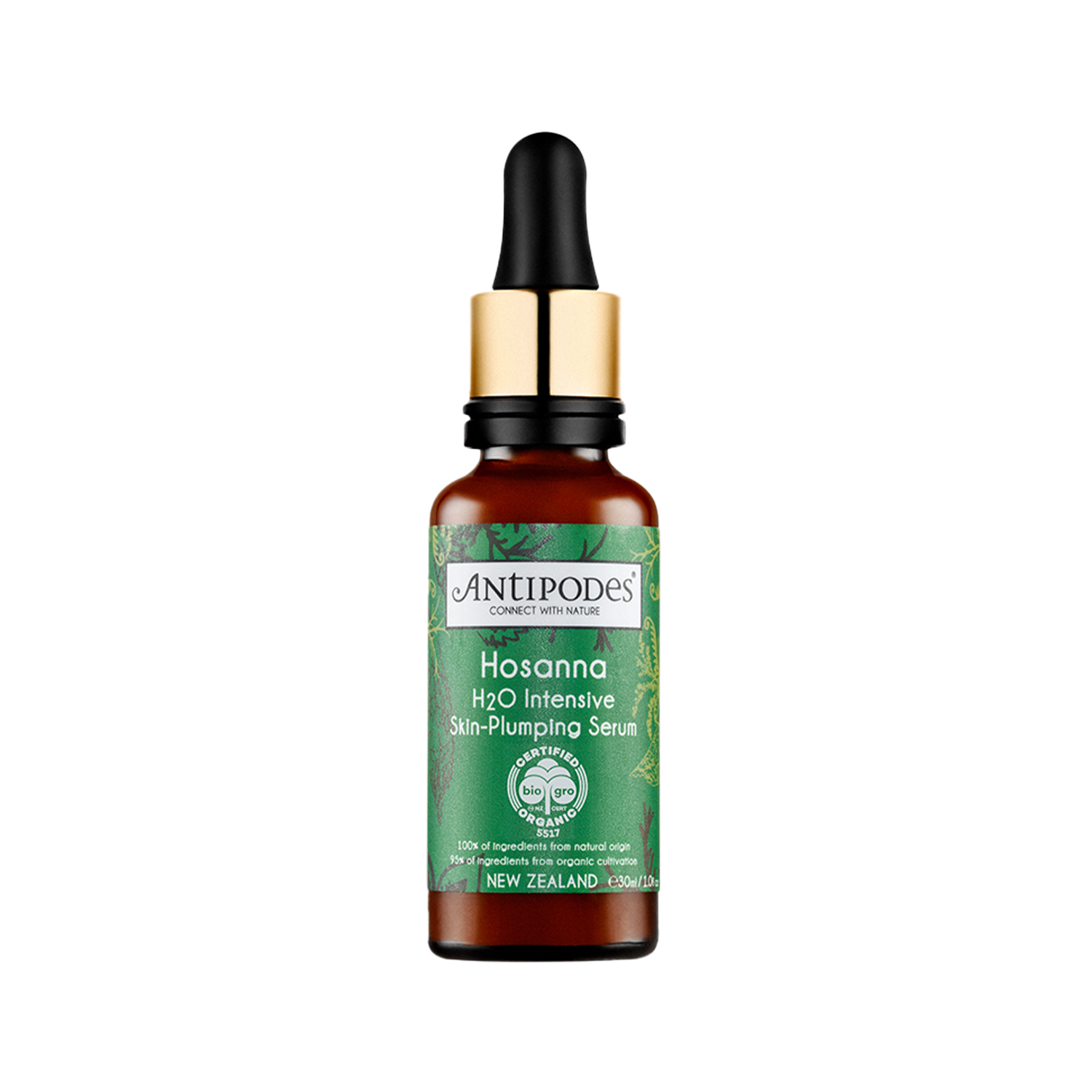 Antipodes Hosanna H2O Intensive Skin-Plumping Serum 30ml
Antipodes
Antioxidant Face Plumping Serum
A water-charged serum that immediately plumps thirsty skin while helping to intensively improve your skin appearance over time. Revolutionary antioxidant Vinanza Grape from New Zealand sauvignon blanc grapes helps powerfully protect and build resistance to damage caused by environmental aggressors and pollutants. Extract of mamaku black fern helps foster cell renewal, making this an everyday essential item for plump, healthy, youthful skin. Elements of Beauty: Vinanza Grape * Waiwera artesian water * Mamaku black fernPure Plant Fragrance: Rose & cardamone30ml / 1.0fl ozDaily RitualApply to your face, neck, and décolletage before your favorite Antipodes face oil or moisturizer. Use daily for immediate hydration and the best long-term results. Suited to all skin conditions, especially water-deprived.
Use every morning and night.
Apply a few drops to your cleansed face, neck, and décolletage.
Follow with Vanilla Pod Hydrating Day Cream in the morning and Avocado Pear Nourishing Night Cream at the end of the day.
Ingredients: Lavandula Angustifolia (Lavender) Hydrosol*, Aqua (Waiwera®) Water, Naticide® (Parfum), Cyathea Medullaris (Mamaku Black Fern) Leaf Extract, Xanthan Gum, Caprylyl/Capryl Glucoside, Vitis Vinifera (Vinanza® Grape) Seed Extract. Fragrance Of French Rose & Cardamon: Citral, Citronellol, Limonene, Farnesol, Geraniol, Linalool. *Certified Organic By Biogro Formulated Without: Antipodes Products Are Completely Free From Parabens; Sulphates; Phthalates; Silicon Derived Ingredients; Synthetic Fillers; Genetically Modified (Gm) Ingredients; Genetically Engineered (Ge) Ingredients; Animal Ingredients (Except Ingredients From Living Bees, Such As Honey); Artificial Colors; Artificial Fragrances; Chemical Sunscreens; Mineral Oils; Petrochemicals (Like Propylene Glycol); Bha (Butylated Hydroxyanisole); Ethanolamines And Ethoxylated Ingredients.