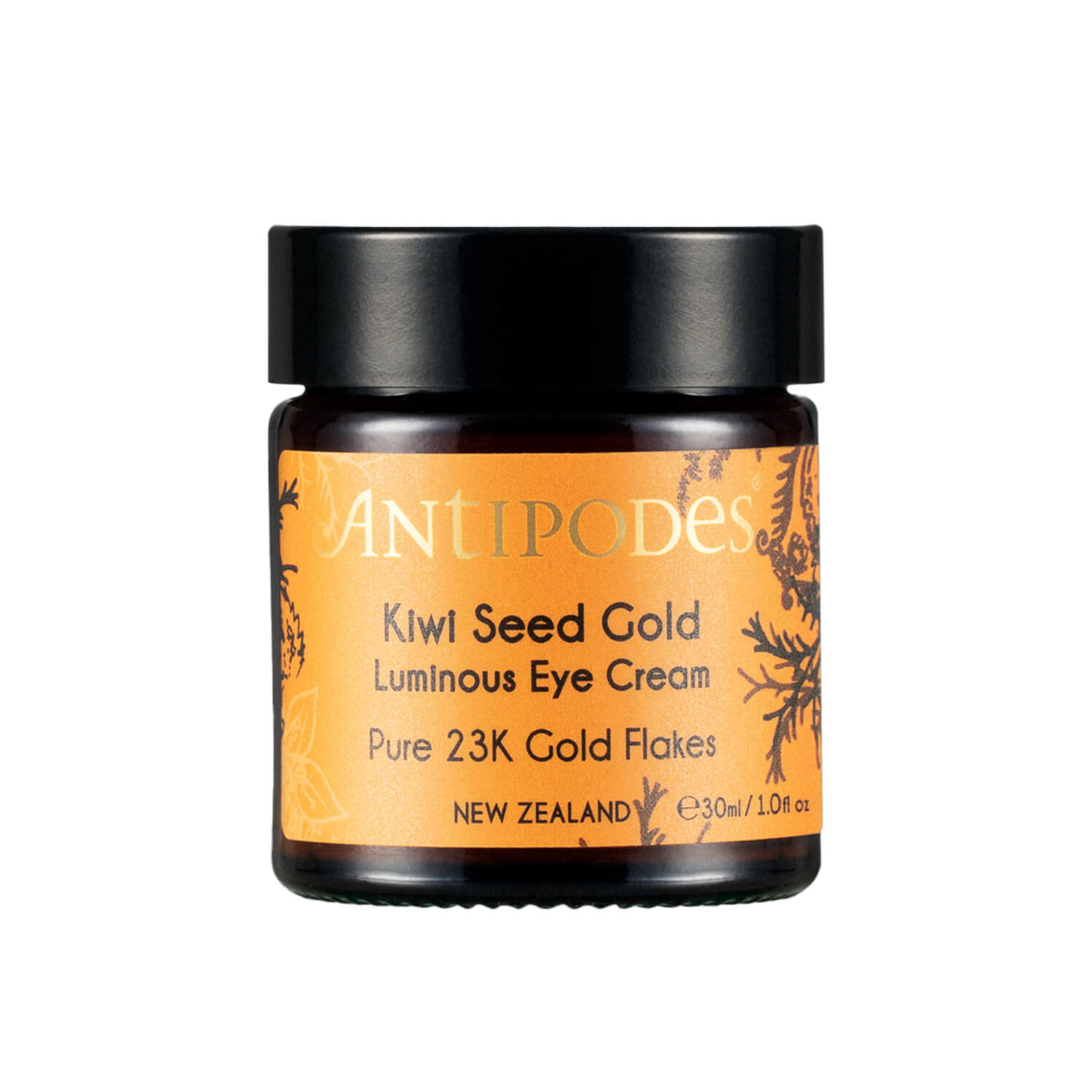 Antipodes Kiwi Seed Oil Eye Cream 30ml
Antipodes
A luxurious, illuminating eye cream with 23K gold flakes to impart a warm glow and bring calm to stressed skin. Vitamin C from New Zealand superfruit, kiwifruit helps moisturize and soften fine lines. Elements of Beauty: Kiwi seed oil * Vinanza® Grape & Kiwi * 23K Gold FlakesFragrance-freee30ml / 1.0fl oz Daily Ritual With reverence, smooth into the area around your eyes using clean fingertips. Apply at sunrise and sunset.
Use every morning and evening.Firstly apply Vanilla Pod Hydrating Day Cream in the morning and Avocado Pear Nourishing Night Cream at day's end.Then soothe the precious area around your eyes by using clean fingertips to pat this eye cream on gently.
Ingredients: Aqua (Water), Persea gratissima (Avocado Pear) Oil, Glycerine, Cetearyl Glucoside, Cetearyl Alcohol, Stearic Acid (Vegetable), Glyceryl Stearate, Tocopherol (Vitamin E), Helianthus annuus (Sunflower) Seed Oil, Dehydroacetic Acid, Benzyl Alcohol, Daucus carota (Carrot) Seed Oil, Actinida chinensis (Kiwi) Fruit Seed Oil, Borago officinalis (Borage) Oil, Bisabolol, Vitis vinifera (Vinanza® Grape) Seed Extract. Formulated without: Antipodes products are completely free from: parabens; sulphates; phthalates; silicon derived ingredients; synthetic fillers; genetically modified (GM) ingredients; genetically engineered (GE) ingredients; animal ingredients (except ingredients from living bees, such as honey); artificial colors; artificial fragrances; chemical sunscreens; mineral oils; petrochemicals (like propylene glycol); BHA (butylated hydroxyanisole); ethanolamines and ethoxylated ingredients.