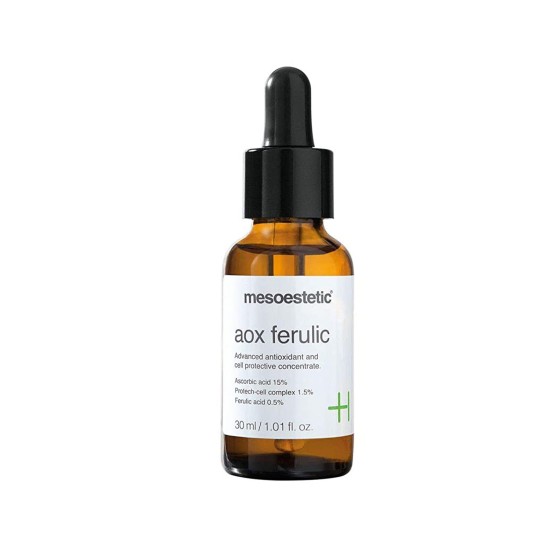 Mesoestetic AOX Ferulic Serum 30ml
Mesoestetic
AED 310
AED 620
(VAT inc.)
Limited Stock!
Antioxidant Face Serum with Vitamin C, E, and Ferulic acid
Anti-aging concentrated treatment
Prevents and works against oxidative cell damage
Anti-aging concentrated treatment that prevents and works against oxidative cell damage. It protects fibroblasts and improves collagen fiber synthesis. Biological shield against oxidation produced by Uvb, Uva, Ir, and visible light (HEV). Protects the natural antioxidant system and barrier function of the skin. Prevents photo and chrono-aging. Acts as a biological protective agent against oxidation caused by sources of blue light, computer screens, televisions, etc. Antioxidant protection counteracts the oxidative damage caused by the numerous external aggressions faced by the skin on a daily basis. Antiaging concentrate boosts the synthesis of collagen and protects the cells responsible for its production by promoting skin elasticity and turgor. Instant radiance, its revitalizing action has an immediately radiant effect on the skin.
Apply 4-5 drops on cream and dry skin.
Proceed with your usual anti-aging or sunscreen treatment.
For daily protection against external aggressions, apply each morning before your daily cream.
For intensive action, apply each morning and evening.
To maximize the effect, proceed with the treatment for 4 weeks.
Ascorbic Acid, Ferulic Acid, Vitamin C, Vitamin E
Frequently Bought Together
Choose items to buy together