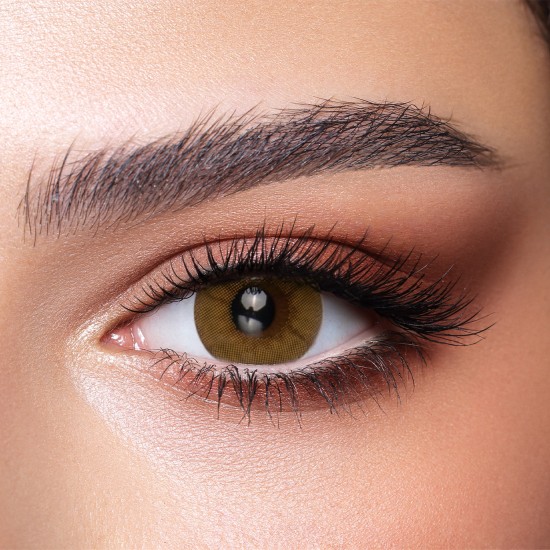 Bella Almond Brown One Day - Daily Colored Contact Lenses 10s
Bella
Box contains 5 pairs of lenses
High water retention, ideal for eye dryness
USA materials, FDA & CE approved
This is a corrective and cosmetic soft contact lens. Daily contacts that can be used for a maximum of 1 Day upon opening. Bio-compatible elements make the lens soft & comfortable throughout the day. High water retention allows high oxygen permeability. Ideal for eye dryness, high Definition design & UV blocker.
Insertion
Wash and dry your hands before removing the lenses from the package.

Remove the lenses from their blisters Place the lens on the tip of your index finger and use your other hand to hold your upper eyelid.

Pull your lower eyelid down with your middle finger & slowly place the lens on the center part of your eye.

Release your eyelid, close your eye for a moment, and blink.
Removal
Look up and pull down your lower eyelid

Pull the lens downward gently with your finger and thumb

Gently pinch the edge of the lens and remove it from your eye.
Precaution
Comply with the direction from the eye practitioner and instruction strictly.

Do not get soap, shampoo, spray, and cosmetic products in the lens, and put on makeup after inserting the lens.

If chemicals are splashed into your eyes, immediately remove your lenses.

When showering or swimming, remove the lens and use goggles.

Do not use tap water and use professionally manufactured saline, cleansing and solution only.

Do not alternate parameters without consulting with an eye practitioner.
2 Hydroxyethyl Methacrylate, Ethylene Glycol Dimethacrylate, Methacrylic Acid, 2 (4 Benzoyl 3Hydroxyphenoxy) Ethyl Acrylate, Pigments