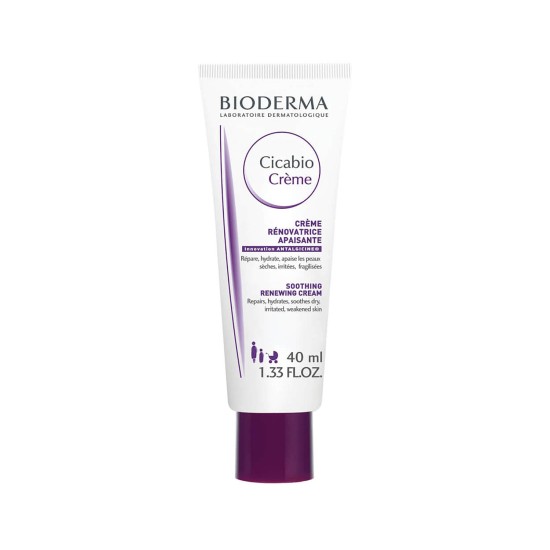 Bioderma Cicabio Cream 40ml
Bioderma
Quickly reduces feeling of discomfort
Good tolerance
Creamy texture
Non-comedogenic
Quick and easy application
Unfragranced
Cicabio Creme supports the skin's reconstruction process. It moisturizes and reduces the urge to scratch while restoring the epidermis, by forming a breathable film to protect the skin. Unfragranced. For all the family except premature infants. Benefits: Quickly reduces the feeling of discomfort. Good tolerance - Creamy texture - Non-comedogenic - Quick and easy application - Unfragranced.
Once or twice daily until your skin is fully repaired.STEP 1Cleanse the skin and dry well.STEP 2Apply to the irritated area.Avoid the eye contour area. If skin oozes or irritation persists, consult a healthcare professional. Only apply to lips from the age of 6 months. Only apply to external muNecks membranes in adults. Use Cicabio Pommade for the nappy area in babies and young children.
AQUA/WATER/EAUGLYCERINETHYLHEXYL PALMITATEFRUCTOOLIGOSACCHARIDESZINC OXIDESORBITAN STEARATEPEG-30 DIPOLYHYDROXYSTEARATEBUTYLENE GLYCOLPOLYACRYLAMIDEC13-14 ISOPARAFFINLAURETH-7COPPER SULFATEMANNITOLSODIUM HYALURONATEXYLITOLZINC SULFATEVITIS VINIFERA (GRAPE) VINE EXTRACTRHAMNOSELAURETH-3ASIATICOSIDEMADECASSIC ACIDASIATIC ACIDHYDROXYETHYLCELLULOSEACETYL DIPEPTIDE-1 CETYL ESTERPOTASSIUM SORBATECAPRYLIC/CAPRIC TRIGLYCERIDELAMINARIA OCHROLEUCA EXTRACT. [BI 561]The ingredients listed here are those contained in the most recent formulation of this product. As there may be a delay between its production and its distribution on the market, please refer to the ingredient list on the packaging.