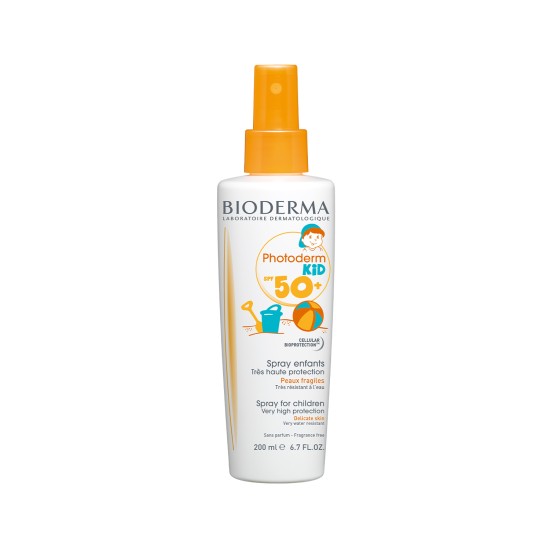 Bioderma Sunscreen Photoderm Spf50+ Kid's Spray 200ml
Bioderma
Offers a very high UVA/UVB protection
Activates the skin's natural defenses and protects from risks of cellular damage
The color of the product is natural and is due to the combination of filters
Non-comedogenic
Photoderm Kid Spray is a sunscreen that guarantees very high UVA/UVB protection while activating the skin's natural defences. Non-greasy, colourless spray. Very good tolerance. Unfragranced, very water-resistant. Benefits: Offers a very high UVA/UVB protection. Activates the skin's natural defences and protects from risks of cellular damage. The colour of the product is natural and is due to the combination of filters. Non-comedogenic.
Several times a day when exposed to the sun.
STEP 1: Apply evenly and generously before exposure (reducing the amount of product reduces the level of protection).
STEP 2: Reapply frequently before and after swimming, friction or sport. Apply to healthy skin. Spray into the palm of the hand before applying to the face. Do not spray toward eyes. The colour of the product is due to the combination of filters. Avoid contact with fabrics. Children older than 12 months. Do not expose babies and young children to the sun. Over exposure to the sun can damage the health.
AQUA/WATER/EAUDIETHYLAMINO HYDROXYBENZOYL HEXYL BENZOATEHOMOSALATEDIISOPROPYL SEBACATEBIS-ETHYLHEXYLOXYPHENOL METHOXYPHENYL TRIAZINEDIBUTYL ADIPATEPROPANEDIOLETHYLHEXYL SALICYLATEETHYLHEXYL TRIAZONEMETHYLPROPANEDIOLMICROCRYSTALLINE CELLULOSEC20-22 ALKYL PHOSPHATEC20-22 ALCOHOLSC14-22 ALCOHOLSCAPRYLOYL GLYCINESODIUM CITRATECELLULOSE GUMCITRIC ACIDC12-20 ALKYL GLUCOSIDEECTOINMANNITOLXYLITOLSODIUM HYDROXIDERHAMNOSEFRUCTOOLIGOSACCHARIDESCAPRYLIC/CAPRIC TRIGLYCERIDELAMINARIA OCHROLEUCA EXTRACT. [BI552]The ingredients listed here are those contained in the most recent formulation of this product. As there may be a delay between its production and its distribution on the market, please refer to the ingredient list on the packaging.