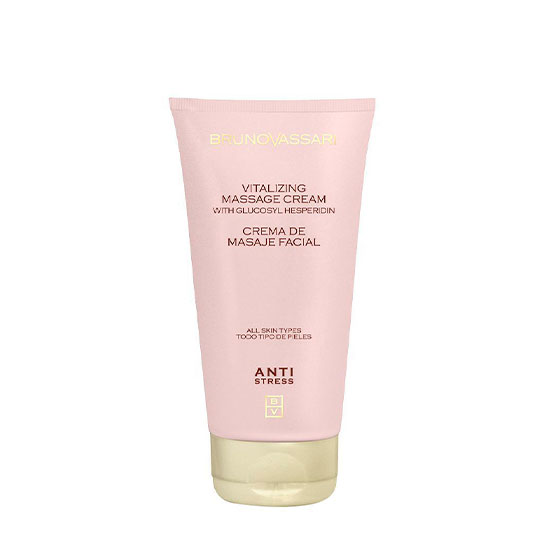 Bruno Vassari Anti-Stress Vitalizing Facial Massage Cream 200ml
Bruno Vassari
Specific cream for massage
Fights against the dull skins and fatigue signs
Efficient, fast and highly effective
Revitalises, activates, unifies the color and leaves the skin more transparent
Facial massage cream formulated with Glucosyl Hesperidin causes the results of the massage to be much more effective. In addition to facilitating the fluid movement of the hand thanks to its texture, it stimulates blood circulation at a deep level to improve vascularization and oxygenation of the skin.
Infuse the cream in your hands or apply with the help of brushes. Leave a few minutes in exposure and proceed with the massage. Once the massage is finished, remove excess product with a towel soaked in hot water.
Contains as main assets: - Glucosyl Hesperidin: its main activity is to improve blood circulation. There are many skin problems, such as dark circles, dull or even tired skin that are due to circulation problems caused by daily activity and the stress our skin is subjected to due to high or low temperatures, lack of sleep or other reasons. All this causes the skin to look aged. For example, it is known that the concentration of blood is higher in the perimeter of the eyes and the circulation in that area is already slow. If we add fatigue or stress on top, concentration increases causing the appearance of dark circles. Once on the skin, the active ingredient helps improve blood circulation, thanks to an increase in skin temperature that causes vasodilation of the blood vessels. - Olive oil: olive oil is the fundamental pillar of the Mediterranean diet and its therapeutic and nutritional properties are well known and appreciated. But what many may not know is that the so-called "liquid gold" has been, is and will be a key ingredient in the world of beauty and cosmetics due to its innumerable moisturizing and antioxidant properties. There are many qualities that make olive oil an excellent ally for the health of body tissues: it is a very rich source of essential fatty acids that help restore the skin's natural moisture levels. The main component of the oil, oleic acid, is a constituent of cell membranes and skin. Olive oil is a useful body emollient that is even used for therapeutic massages. It has a remarkable toning effect on the epidermis. It protects the skin against external environmental factors, moisturizes it and maintains the entire structure of the dermis, allowing better regeneration and therefore greater firmness.