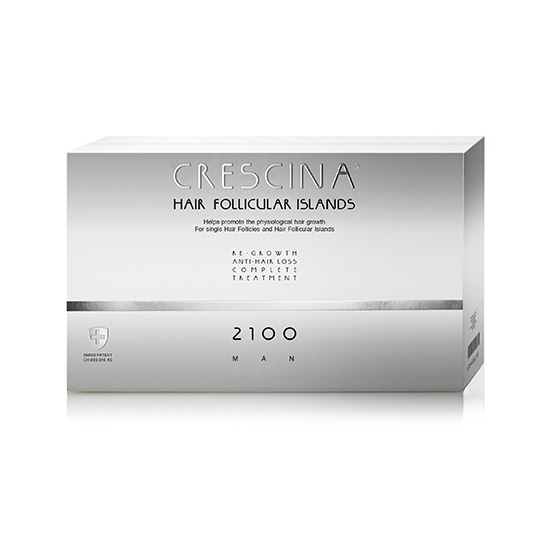 Crescina Transdermic Follicular Islands Re-Growth 2100 Hair-Loss Man Vials 20's
Crescina
AED 1228.5
AED 2047.5
(VAT inc.)
Aids in the physiological growth of hair
To promote the development and growth of hair
It does not act on totally atrophied bulbs and follicles
Crescina Hair Follicular Islands is a cosmetic treatment of topical application in ampoules. It contains the essence of patented Crescina Re-Growth (cysteine, lysine, glycoprotein) that aids in the physiological growth of hair. A portion of the patented assets (cysteine, lysine, glycoprotein, and Stem Engine - HFSC formula) is inserted into cyclodextrins that allow gradual release. Contains the special complex for Swiss follicular islands (glycogen, glutamyl-amido-ethyl-indole, Lupinus albus, proline, an extract of Triticum Vulgare + Glycine max + Scutellaria baicalensis) to assist both primary and secondary bulbs and follicles specifically those belonging to the follicular islands, in order to promote the development and growth of hair. It is indicated in cases of thinning of physiological and non-pathological origin. It does not act on totally atrophied bulbs and follicles.
Treatment of at least two months is recommended using a 3.5 ml ampoule per day for five consecutive days
Then resuming after two days of rest according to the instructions on the package
Available in the form of 20 ampoules (equivalent to one month of treatment)
Cysteine, Lysine, Glycoprotein, Stem-Engine, Hydroxyproline, Aspartic Acid, Enzyme Activator And Taurine.