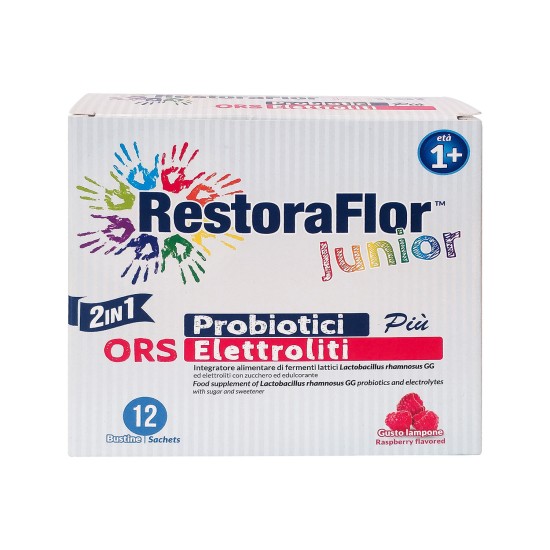 RestoraFlor Junior 5 billion CFU Probiotic Plus ORS Electrolytes
UGA
RestoraFlor junior is a unique formulation that combines 5 billion CFU of the most clinically studied probiotic strain with ORS electrolytes, specifically designed for the prevention of dehydration and the support of the digestive system of children as per the guidelines of ESPGHAN.The innovative packaging in Twin active sachets, with two separate rooms, avoids the interactions between salts and probiotics and provides stability otherwise impossible in a unique dosage form. RestoraFlor junior is easy to use with a raspberry favored powder that dissolves easily in a cup of water or baby feeding bottle (200 mL) and tastes great.
1 -2 sachets per day. Dissolve the content in 200 ml of water and mix until dissolved completely.
Dextrose; Maltodextrins; Sodium Chloride; Sodium Bicarbonate; Potassium Chloride; Raspberry Flavour; Lactobacillus Rhamnosus Gg; Colouring: Beetroot Red; Sweetener; Sucralose; Anticaking Agent: Silicon Dioxide; Fructo-Oligosaccharides; Stabilizer: Guar Gum.