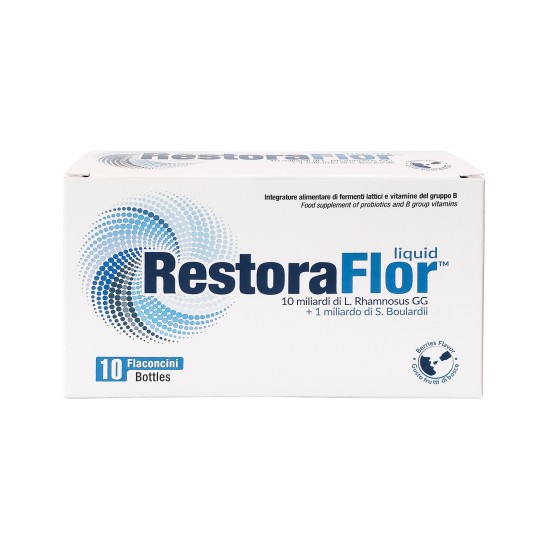 RestoraFlor Liquid Probiotics 10 billion
UGA
RestoraFlor liquid is an innovative food supplement of probiotics and B vitamins in liquid form. RestoraFlor liquid combines two of the probiotic strains with the strongest clinical evidence – 10 billion CFU of Lactobacillus Rhamnosus GG and 1 billion CFU of Saccharomyces Boulardii – with prebiotic fructo-oligosaccharides and vitamins B1, B2, B6 and B12, in practical one-shot liquid doses with red berry flavor, especially suitable for adults and children.
RestoraFlor liquid may be administered directly from the bottle or diluted in water or fruit juices at room temperature.
Dosing Cap: Saccharomyces Boulardii; Lactobacillus Rhamnosus Gg; Maltodextrins; Vitamin B6; Vitmain B1; Vitamin B2; Anticaking Agent: Silicon Dioxide; Vitamin B12.Bottle: Water; Fructose; Maltodextrin; Fructo-Olisaccharides; Preservatives: Potassium; Sorbate, Sodium Benzoate; Flavor; Acidity Regulator: Citric Acid.