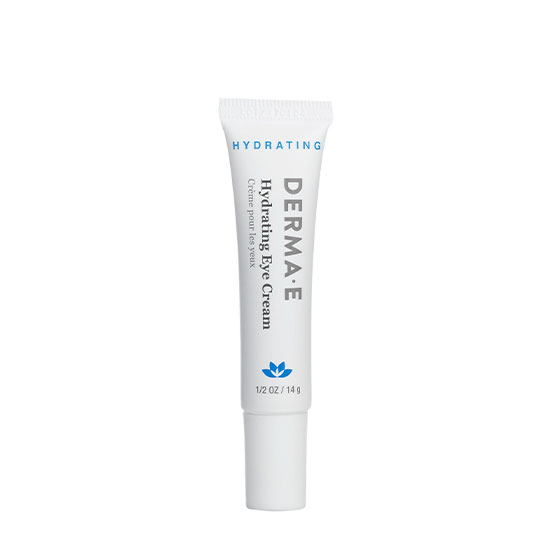 Derma E Hydrating Eye Cream 14 g
Derma E
Deeply hydrates, firms, and tones the delicate skin around your eyes
Helps soften, smooth, tone, and rehydrate skin
Fragrance-free eye cream
Deeply hydrate, firm and tone the delicate skin around your eyes while reducing the look of fine lines and crow's feet with our most popular, fragrance-free eye cream. Hyaluronic Acid (HA), also known as nature's moisture magnet, has the ability to hold up to 1,000 times its weight in water, binding moisture to help soften, smooth, tone and rehydrate skin. Only Derma E® has blended the unmatched hydrating properties of HA with antioxidants Pycnogenol® and Green Tea, moisturizing Jojoba Oil and nourishing Vitamins A, C and E into a rich, replenishing eye cream to keep eyes young and radiant looking. 100% vegan, cruelty-free, paraben-free, sulfate-free, mineral oil-free, lanolin-free, gluten free, GMO-free.Apply a small amount of Hydrating Eye Cream onto the fingertips and pat into the skin in a circular direction around the orbital area. Use twice daily. May be used under make-up.
Gently dab the Hydrating Eye Cream around the eye area with your ring finger.
Hyaluronic Acid: Known As Nature'S "Moisture Magnet&Rdquo;, It Delivers Intense Moisture, Infusing Skin With Healthy Hydration. This Is The Key To Our Super-Moisturizing Eye Cream.Green Tea: This Helps Deliver Vital Antioxidant And Anti-Inflammatory Power To Protect Skin From Sun Damage While Helping To Prevent The Visible Signs Of Aging. Vitamin A: The "Skin Vitamin&Rdquo; Supports Cell Health For Younger-Looking Skin. Vitamin C: This Potent Vitamin Supports Collagen Health For Skin That Feels Firm And Smooth, And Looks Brighter. It Also Helps Protect Skin From Environmental Damage. Vitamin E: By Helping The Skin Retain Moisture, Vitamin E Nourishes The Complexion So It Feels Soft And Supple. Pycnogenol®: This Antioxidant Reduces The Appearance Of Puffiness Around The Eyes. Purified Water, Caprylic/Capric Triglyceride (Plant Derived), Glycerin (Vegetable Derived) , Stearic Acid (Vegetable Derived), Cetyl Alcohol (Plant Derived) , Glyceryl Stearate Citrate (Vegetable Derived), Sodium Hyaluronate (Hyaluronic Acid), Hamamelis Virginiana (Witch Hazel) Extract, Organic Camellia Sinensis (Green Tea) Leaf Extract*, Tocopheryl Acetate (Vitamin E), Retinyl Palmitate (Vitamin A), Ascorbyl Palmitate (Vitamin C Ester), Pinus Pinaster (Pycnogenol®) Bark Extract, Panthenol (Provitamin B5), Organic Aloe Barbadensis (Aloe Vera) Extract*, Organic Simmondsia Chinensis (Jojoba) Seed Oil*, Xanthan Gum, Allantoin, Dimethicone, Glyceryl Stearate Se, Potassium Sorbate, Phenoxyethanol, Ethylhexylglycerin.