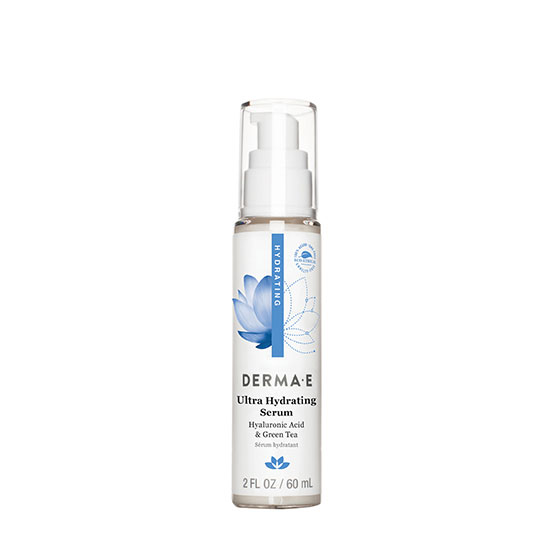 Derma E Ultra Hydrating Serum With Hyaluronic Acid 60 ml
Derma E
Thoroughly moisturizes and plumps skin to reduce the look of fine lines and wrinkles
Ultra-hydrating day cream
Thoroughly moisturize and plump skin to reduce the look of fine lines and wrinkles with this ultra-hydrating day cream. This fine, silky formula delivers the unmatched hydrating properties of nature's moisture magnet, Hyaluronic Acid (HA). A single molecule of HA can hold up to 1,000 times its weight in water, binding moisture to help plump, soften, smooth, tone and rehydrate skin. Enriched with anti-aging antioxidants Green Tea, Vitamins C and E, and soothing Aloe, this formula helps defend skin from free radicals and the effects of the environment. Ideal for dry, dehydrated skin that needs long-lasting moisture throughout the day, this cream delivers maximum hydration while helping diminish the signs of aging for softer, smoother, younger-looking skin. 100% vegan, cruelty-free, paraben-free, sulfate-free, mineral oil-free, lanolin-free, gluten free, GMO-free.Apply a small amount of Hydrating Day Cream onto the fingertips and apply to the entire face and throat in light upward strokes. Use in the morning or whenever extra moisture is needed. May be used under make-up.
Thoroughly cleanse the face and neck before using this hydrating skin serum.
Hyaluronic Acid: Nature'S Moisture Magnet&Mdash;Because It Can Hold Up To 1,000 Times Its Weight In Water&Mdash;Offers Skin Superior Hydration. Green Tea: This Antioxidant Richly Nourishes The Skin And Offers Powerful Protection From Uv Damage And Environmental Stress. Panthenol (Provitamin B5): This Water-Soluble Vitamin Is Like A Humectant, Drawing Moisture To The Skin While Conditioning The Complexion For A Smooth, Healthier-Looking Texture. Vitamin C: This Vitamin Helps Wake Up The Skin, Creating A Brighter, More Youthful Appearance. It Also Helps Skin Feel Firmer And More Elastic, While Protecting It From Damage Caused By Uv Rays. The Hydrating Serum With Hyaluronic Acid Is 100% Vegan And Cruelty-Free, And Does Not Contain Parabens, Sulfates, Mineral Oil, Lanolin, Gluten Or Gmos. Purified Water, Glycerin (Vegetable Derived), Cetyl Alcohol (Plant Derived), Sodium Hyaluronate (Hyaluronic Acid), Organic Camellia Sinensis (Green Tea) Leaf Extract*, Glyceryl Stearate Citrate (Vegetable Derived), Panthenol (Provitamin B5), Allantoin, Sodium Ascorbyl Phosphate (Vitamin C), Diheptyl Succinate, Capryloyl Glycerin/Sebacic Acid Copolymer, Dimethicone, Glyceryl Stearate (Vegetable Derived), Polysorbate 60, Cetearyl Glucoside (Plant Derived), Xanthan Gum, Potassium Sorbate, Phenoxyethanol, Ethylhexylglycerin, Natural Fragrance Oils.