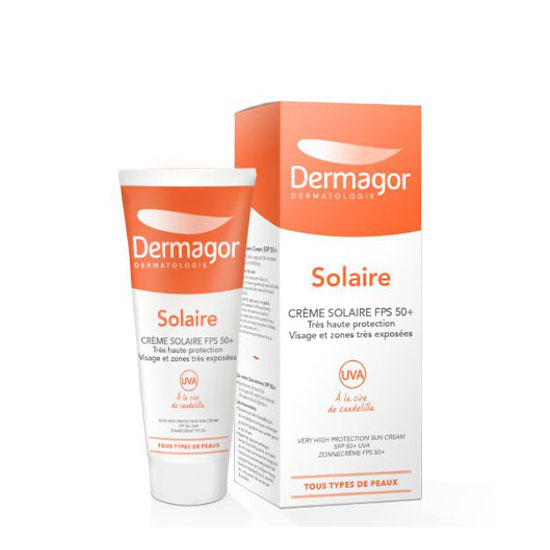 Dermagor Solaire SPF 50 UVA
Dermagor
Evens skin texture
Corrects the complexion
Brightens the complexion
Protects against UVA and UVB
Protects the skin from premature aging
Dermagor Solaire SPF 50+ UVA is enriched with Shea oil and Allantoin, Dermagor's Solaire Cream with SPF 50+ has a remarkable soothing effect on sensitive skin areas and screens the sunlight all year long. It also has an anti-aging and nourishing effect on both males and females to keep every skin type delicately protected.
Apply evenly with gentle massage until it is fully absorbed before sun exposure. Avoid use in the area around the eyes. Repeat the application regularly and especially before and after swimming or sports. Using reduced quantities will significantly reduce the levels of protection. Avoid sun exposure at lunchtime. Even if you use sunscreen, excessive sun exposure is a serious threat to health. Sunscreen products do not provide 100% UV protection. Protect yourself by wearing appropriate clothing. Infants and children should not be exposed to the sun.
With Natural-Organic Filters, Plant Extracts And Antioxidants For Top Protection Against Uva / Uvb Radiation And Excellent Skin Tolerance. Water And Sweat Resistant For Continuous Protection Inside And Out Of The Water. Moisturize And Nourish The Skin Deeply While Providing A Soft And Fresh Veil That Lasts. They Relieve Irritation And Protect Against Premature Photoaging.