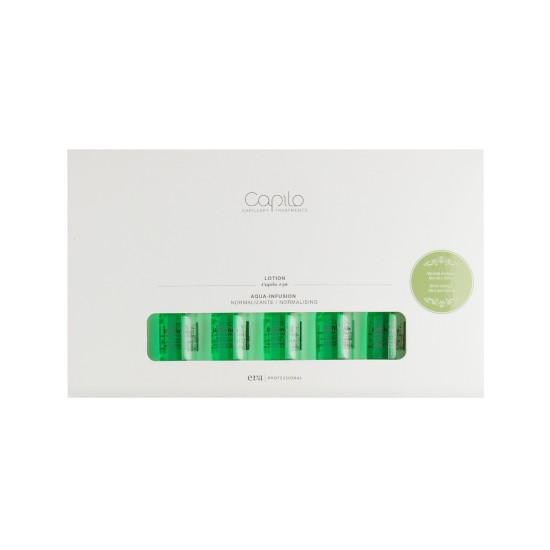 Eva Professional Hair Care Capilo Ekilibrium Aqua-infusion 36 Oily Scalp/Dry Hair Lotion 10 x 7ml Ampoules
Eva
Hair ampoules for Oily Hair/Scalp
Removes Excess Sebum
Enriched with Mint & Orange extract
Recommended for the treatment of scalps afflicted by an overproduction of oil. Regulates excess scalp sebum, balancing the pH. The combined action of bitter orange, mint, and sage provides an extraordinary sensation of freshness and long-lasting comfort for the scalp and hair. Provides silkiness, flexibility, and lightness.
Start with towel-dried hair. Remove the plastic seal from the vial and attach the included applicator to the end. Begin by parting the hair in the center of the head and apply the lotion directly to the exposed scalp. Continue parting the hair in 1-inch increments and applying the lotion to the scalp until the scalp has been completely covered and you have used the entire vial. Massage the scalp thoroughly with the fingertips in circular motions to stimulate microcirculation and aid in absorption. Do not rinse.
Bitter Orange Extract: Great Sebum-Regulating Action. Vitamin-Rich Boost For The Hair Cuticle. Strengthens And Nourishes The Hair. Powerful Disinfectant And Soothing Action. Mint Extract: Cleans And Frees The Scalp Of Excess Oil. Provides An Exceptional Feeling Of Freshness. Highly Effective Against Oil, Thanks To Its Purifying And Stimulating Action. Protects The Skin Against Oxidative Damage And Premature Aging. Sage Extract: Strengthens And Nourishes The Hair. Balances The Ph. Great Soothing Properties.