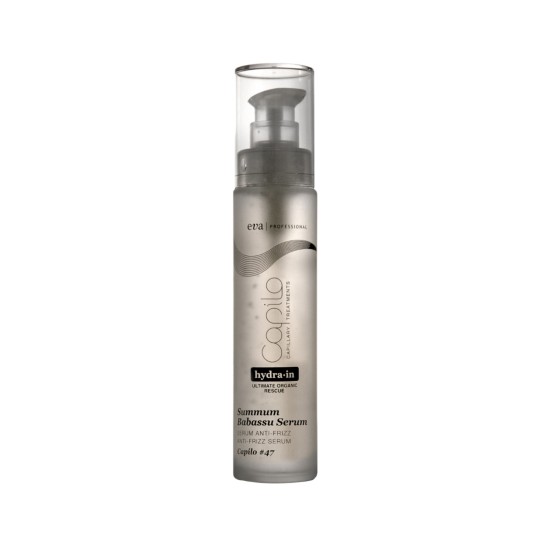 Eva Professional Hair Care Capilo Hydra in Summum Babassu Serum 47 - 50ml
Eva
Anti-Frizz Hair Serum for all Hair Types
With Nourishing & Moisturizing Effect
Excellent For Dehydrated Dry Hair
This heat-activated serum moisturizes dry, damaged hair to fight split ends, breakage, and frizz. Organic babassu oil provides natural hair hydration with excellent emollient properties to nourish and soften each strand deep down without leaving an oily sensation. Suitable for any hair type, but especially for dry, dehydrated hair. Paraben, sulfate, and allergen-free formula.
Apply the necessary amount to previously washed and towel-dried hair, from the roots to the ends.
Do not rinse.
Once the hair is dry, apply a few last drops from the mid-sections to the ends, if so desired.
Babassu oil: with a formula very rich in fatty acids and sterols, it has excellent emollient properties, which are very beneficial for both dry and oily skin, since they nourish, hydrate, and soften it deep down, leaving no oily feeling on the skin. It is especially recommended for eczema and itchy and dry skin. Contains glucosides, vitamins, and minerals.