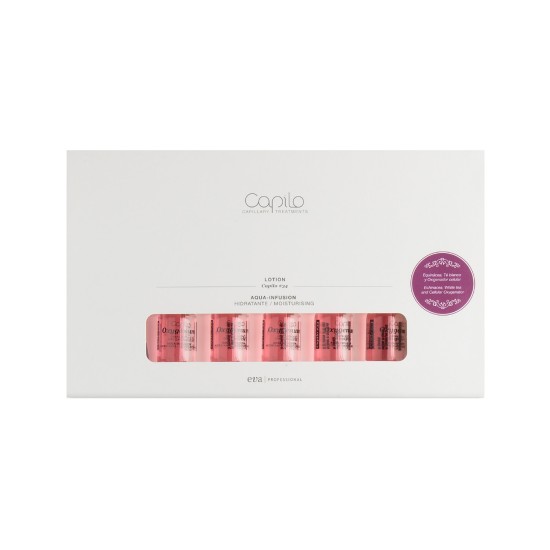 Eva Professional Hair Care Capilo Oxygenum Aqua-infusion 34 Dry Dandruff Lotion 10 x 7ml Ampoules
Eva
Anti-Dry Dandruff Treatment Vials
Enriched with Echinacea & White Tea Extract
Increases Oxygen Circulation
Infused with echinacea and white tea extract, which act deep down to create a hydrolipidic barrier to protect and prevent the appearance of dandruff caused by dry skin. Increase oxygen circulation at the cellular level to reduce irritation and banish flakes for good.
Start with towel-dried hair. Remove the plastic seal from the vial and attach the included applicator to the end. Begin by parting the hair in the center of the head and apply the lotion directly to the exposed scalp. Continue parting the hair in 1-inch increments and applying the lotion to the scalp until the scalp has been completely covered and you have used the entire vial. Massage the scalp thoroughly with the fingertips in circular motions to stimulate microcirculation and aid in absorption. Do not rinse. Unless indicated otherwise by a professional, apply the treatment twice a week. Length of treatment: 3 to 6 months, depending on the type of problem and level of persistence.
White tea extract: white tea builds the body's defenses, neutralizing the activity of free radicals and fighting cellular aging. Regulates the sebaceous glands and tones the scalp. Lavender extract: powerful astringent action, thanks to its tannin content. Strong antimicrobial and anti-inflammatory capacity. Protects sensitive and/or irritated skin. Great antioxidant power. Raspberry vinegar: revitalizes hair, thanks to its formula rich in mineral salts, vitamins, and acids necessary for the hair follicle. Great dermo-purifying action. Makes the hair extremely soft to the touch. Echinacea extract: great antioxidant and purifying action. Strengthens and stimulates the hair fiber. Gives the hair extra shine.