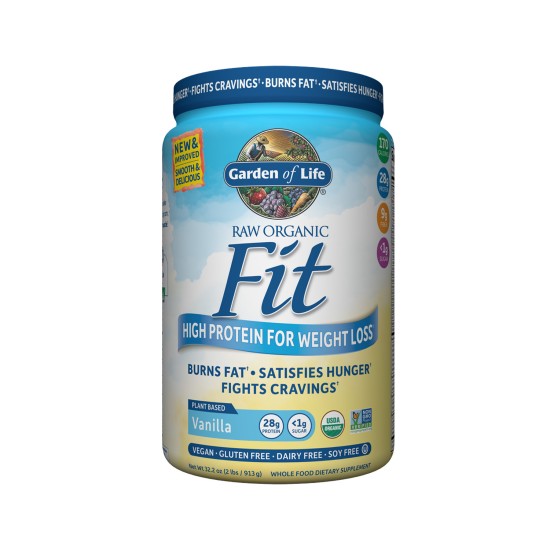 Garden Of Life Raw Organic Fit Protein Powder for Weight Loss Vanilla 913 gm
Garden Of Life
Vegan Plant-based Protein Powder
Satisfy hunger with whole Food Fiber
180 calories/serving
28 gm protein/serving
Raw Organic Fit is an organic high-protein powder specifically designed for weight loss, made with a blend of plant-sourced proteins, including 13 raw sprouted organic ingredients. One scoop of this nutrient-dense protein powder delivers 28 grams of muscle-building protein and 8 grams of Fiber with only 170 Calories and less than 1 gram of Sugar per serving. It includes Svetol (naturally decaffeinated) Green Coffee Bean Extract, Raw Food Created Chromium, and superfoods like Organic Cinnamon to help burn fat, maintain blood sugar levels, boost energy, lose weight and look great!
Mix 1 level scoop in 200 ml of cold water (scoop included). Delicious with unsweetened almond milk or add to your favorite smoothie recipe.
Organic Pea Protein, Organic Sprouted Brown Rice Protein, Organic Tapioca Fiber, Organic Pea Fiber, Organic Chia Seed & Sprout, Organic Flax Seed & Sprout, Organic Cracked Wall Chlorella, Organic Amaranth Sprout, Organic Quinoa Sprout, Organic Millet Sprout, Organic Buckwheat Sprout, Organic Garbanzo Bean Sprout, Organic Lentil Sprout, Organic Adzuki Bean Sprout, Organic Sunflower Seed Sprout, Organic Pumpkin Seed Sprout, Organic Sesame Seed Sprout; Raw Certified Organic Weight Loss & Stress Management Blend: Raw Organic Svetol® (Naturally Decaffeinated Green Coffee Bean Extract), Raw Organic Ashwagandha Root; Raw Certified Organic Superfood Blend: Organic Baobab Fruit, Organic Cinnamon, Organic Daikon Radish Sprout, Organic Alfalfa Sprout; Raw Probiotic & Enzyme Blend: [Lactobacillus acidophilus, Lactobacillus plantarum] (3 Billion CFU), Lipase, Protease, Aspergillopepsin, beta-Glucanase, Cellulase, Bromelain, Phytase, Lactase, Papain, Peptidase, Pectinase, Hemicellulase, Xylanase; Other Ingredients: Organic vanilla flavors, organic erythritol, organic stevia extract (leaf), sea salt. Vitamins A, D & K from the culture of Saccharomyces cerevisiae, Vitamin E (from Sunflower Oil), and Chromium (from Brown Rice Chelate). Made without dairy or soy ingredients, added sugars, filler ingredients, artificial colors, flavors, sweeteners, or preservatives. Manufactured in a facility that also processes egg, milk, soy, and tree nuts. May contain traces of soy due to agricultural practices.