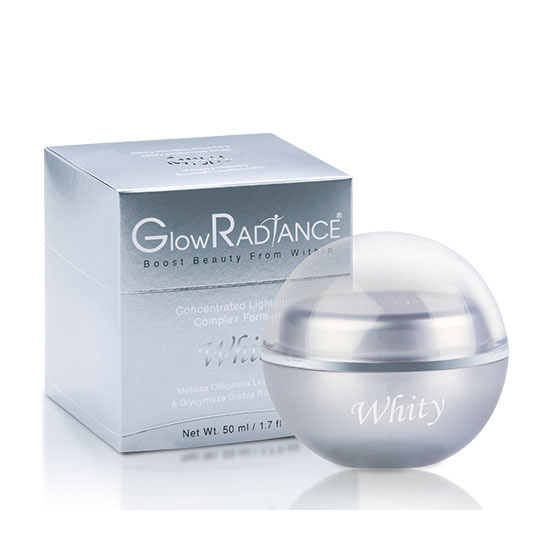 Glowradiance Whity Lightening Face Cream 50 ml
Glowradiance
Face Whitening Cream enriched with Natural ingredients
Prevents future pigmentation
Reduces the appearance of hyperpigmentation
You will start seeing whitening results as early as 2 weeks
Whity Cream Concentrated Lightening Complex Formula There's no need to suppress your dreams of a fairer complexion – there is a natural way to achieve them. With its exceptional blend of vitamins and botanicals, Whity cream nourishes your skin from deep inside to reduce hyperpigmentation. Your skin will look visibly brighter, smoother, and fairer in just four weeks, and continue to improve over time.
Apply twice daily on dry clean skin. Make sure you are using strong sun protection during the treatment course like Shield.
For better and faster results we suggest being used with Whity Powder.
Lumiskin (Diacetyl Boldine): Reversibly Reduce The Melanogenesis Process And Very Sensitively Decrease Pigmentation In The Epidermis While Evens Out The Skin Tone And Adds Radiance. Gigawhite And Viapure Licorice White Extract: A Synergistic Blend Of Seven Alpine Plants (Mallow, Mint, Primrose, Lady S Mantle, Veronica, Balm, And Yarrow). These Plants Are All Tyrosinase Inhibitors With Strong Whitening Powers Whilst Reducing Age Spots.
Frequently Bought Together
Choose items to buy together