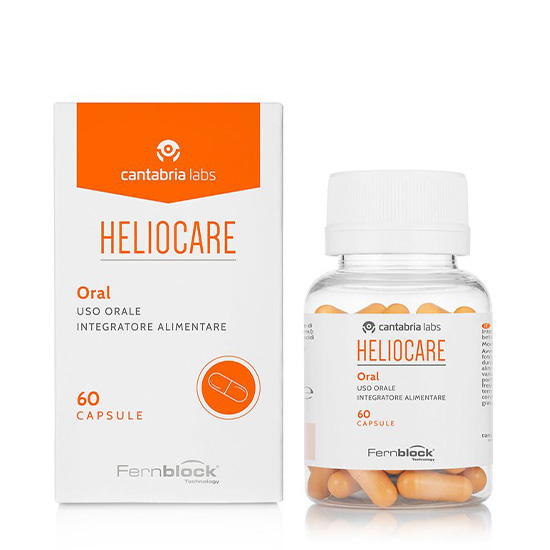 Heliocare Oral Capsules 60 caps
Heliocare
Gluten-free
Accelerates tanning to get the perfect tan without the sun damage
Helps improve skin resistance to sun damage from the first capsule
Protects the entire body surface for hard-to-reach areas (scalp, eyes, ears, etc.)
Its formula with Fernblock helps improve skin resistance to sun damage from the first capsule. In combination with topical photoprotection, they provide homogeneous and uniform protection of the entire body surface and for hard-to-reach areas (scalp, eyes, ears, etc.). They accelerate tanning to get the perfect tan without the sun damage, thanks to its beta-carotene content. They are gluten-free.
Take one capsule daily and two capsules 30 minutes before high sun exposure (beach) for best tanning results (the effect is for 4 hours).
Polypodium Leucotomos (Extract); Maltodextrin (Bulking Agent); Green Tea; Betacarotene; Magnesium Stearate (Anti-Caking Agent). Capsule: Gelatin (Glazing Agent); Colorants: Titanium Dioxide (E-171); Red Iron Oxide (E-172); Yellow Iron Oxide (E-172).