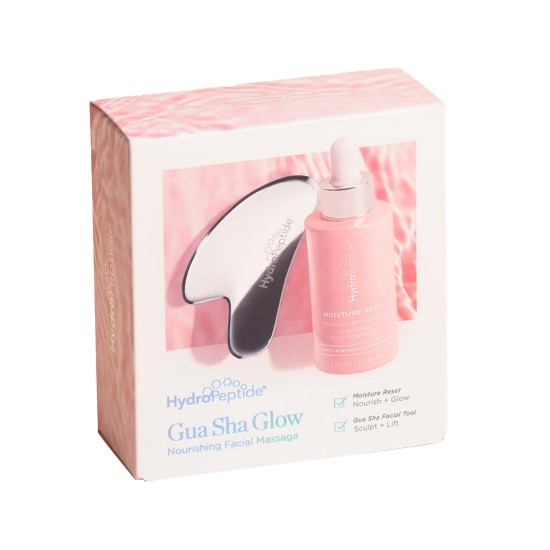 Hydropeptide Gua Sha Glow Gift Set
HydroPeptide
Enhances the lifting effects of Gua Sha massage
Facial massage duo
Relax and restore with this one-of-a-kind facial massage duo. The Moisture Reset facial oil works perfectly with our stainless steel Gua Sha tool to prevent pulling and maximize glide. Leave the oil on to infuse your skin with nourishing, moisture-boosting ingredients that will enhance the liftting effects of Gua Sha massag.Kit includes:Full-size Moisture Reset Facial OilHydroPeptide Gua Sha Tool This kit combines the ancient Chinese practice of gua sha with our luxurious facial oil, Moisture Reset. Use this nourishing oil to create the perfect glide with your gua sha, releasing the powerfully firming and soothing benefits of massage.
Make sure your skin is slick enough for the Gua Sha to glide smoothly with no resistance.
STEP 1: Apply 3-5 drops of Moisture Reset to palms to warm the oil.
STEP 2: Distribute the oil all over the face and neck.
STEP 3: Glide the Gua Sha tool in repetitive upward and outward motions.
Key Ingredientsflower Extractsessential Oils That Work Together To Enrich Skin And Soften Texture.Avocado Pumpkin Oilsthese Luxurious Oils Lock In Moisture And Help Protect The Lipid Barrier Of Your Skin.Rice Bran Extracta Soothing Extract That Nourishes Your Skin.