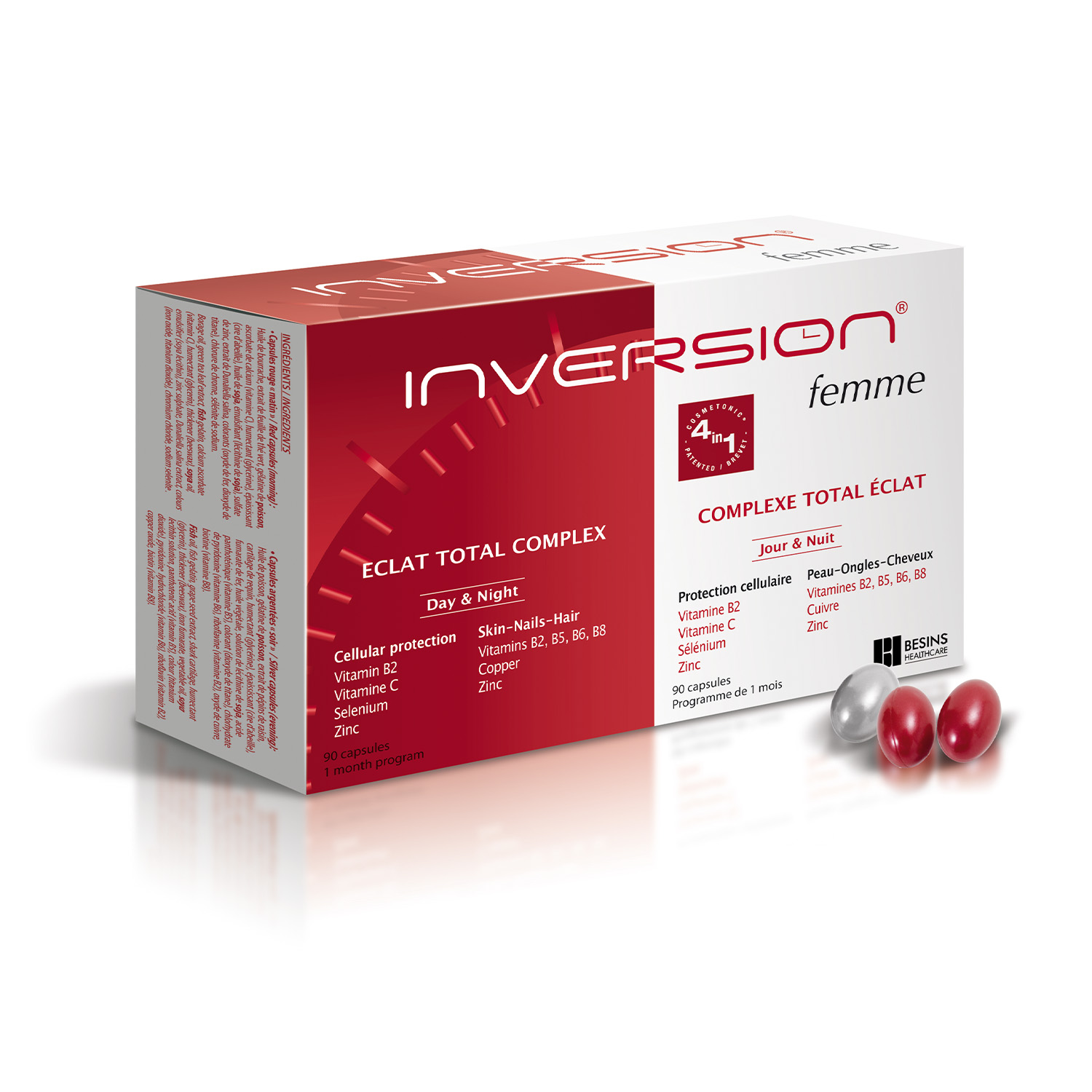 Inversion Femme Eclat Total Complex Day & Night 90 caps
Inversion Femme
Food supplement for skin, hair, and nails
Contains Essential 16 active ingredients
Enriched with Selenium & Zinc
Unique daily beauty and health treatment. Skin, hair and nail beauty, balanced figure and body tone in women. Inversion femme contains 16 active ingredients which respect chronobiology. The exclusive, patented formula has synergistic activity demonstrated in a clinical study. It is specifically designed to reinforce the four pillars of feminine radiance: antioxidant protection, skin, nail, and hair regeneration, a balanced body shape, and a toned figure.
Food supplement containing green tea & grape seed extracts, shark cartilage, borage oil, fish oil, betacarotene, vitamins C, B5 & B6, riboflavin, biotin, zinc, selenium, chromium, copper, iron.
Take 2 red capsules in the morning after breakfast and 1 silver capsule in the evening with food.
Hair growth progresses slowly and requires a little patience.
Therefore, it is recommended that you take Inversion Femme for at least 3 months.
Borage Oil, Green tea leaf extract, Fish Gelatin, Calcium Ascorbate (Vitamin C), Humectant(Glycerin), Thickener(Beeswax), Soya Oil, Emulsifier (Soya lecithin), Zinc Sulphate, Dunaliella Salina Extract, Colors(iron oxide, titanium dioxide), Chromium chloride, Sodium Selenite, Fish Oil, Shark cartilage, iron fumarate, Vegetable oil, Pantothenic acid, pyridoxine hydrochloride, Riboflavin, Copper oxide, Biotin.