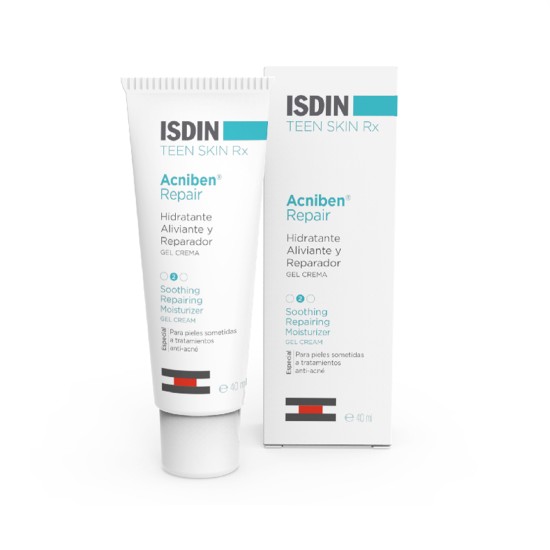 Isdin Acniben Rx Hydrating Gel-Cream 40ml
Isdin
AED 91.7
AED 131
(VAT inc.)
Reduces itching and irritation
Helps to reduce redness and desquamation
Provides a long-lasting and intensive hydration
Deeply moisturizes the skin without leaving it greasy, since it is rapidly absorbed
Repairing and soothing product indicated for acne-prone skin undergoing anti-acne treatments that dehydrate the skin
Isdin Teen Skin Rx Acniben Repair Gel Cream is a repairing and soothing product indicated for acne-prone skin undergoing anti-acne treatments that dehydrate the skin. This gel-cream helps to reduce redness and desquamation and consequently reduces itching and irritation. Also, it deeply moisturizes the skin without leaving it greasy, since it is rapidly absorbed. Thanks to the Calmoactive, glycerine and hyaluronic acid in its composition, it provides a long-lasting and intensive hydration, reinforces the skin's defense mechanisms and reduces irritation.
Apply Isdin Teen Skin Rx Acniben Repair Gel Cream on the clean and dry skin, at morning and evening.
Calmoactive That Soothes The Skin And Reduces Irritation; Glycerine And Hyaluronic Acid That Hydrate The Skin.