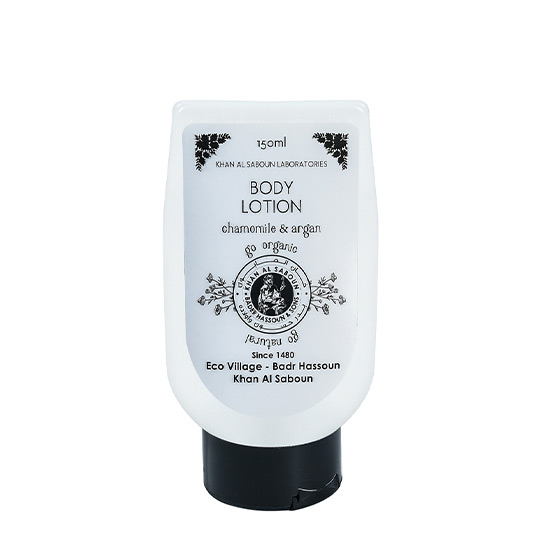 Khan Al Saboun Chamomile & Argan Body Lotion 150ml
Khan Al Saboun
Organic, 100% plant-based
Fights dryness and irritations
Improves skin elasticity
This organic, 100% plant-based body lotion is exceptional in giving the body a soft, smooth and satin-touch radiance. It's your ticket to a relaxed place away from all stress of life.It is extremely absorbed by the skin, fights dryness and irritations, improves skin elasticity, and leaves a sweet loving fragrance behind without causing any side effect. Experience the legendary power of chamomile and argan in your daily routine. It is also highly recommended for babies giving to the fact it contains argan which is highly rich in vitamin E and serves as an antioxidant. In addition, it slows the aging process, prevents the appearance of stretch marks and accelerates the wound healing process.
Usage: apply a small quantity on your body then gently massage your body with the body lotion allowing it to sink deeply into the pores and rejoicing a wonderful fragrance while maximizing the softness. Warning: keep away from heat.
Ingredients: Distilled Herbal Water, Olive Oil, Chamomile Essential Oil, Chamomile Extract, Sweet Almond Oil, Vitamin A & E, Argan Oil.