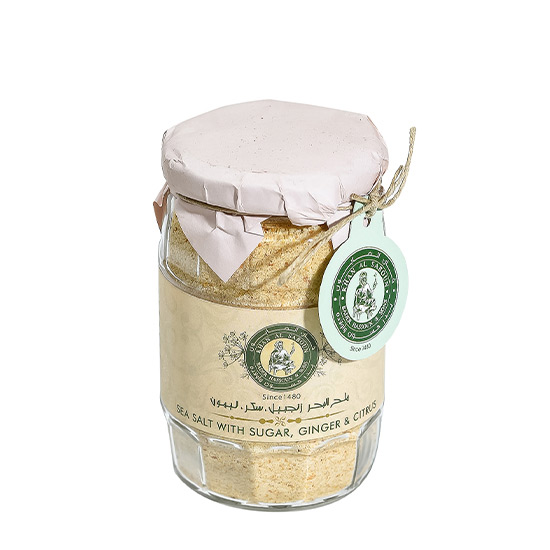 Khan Al Saboun Ginger & Lemon Sea Salt 350g
Khan Al Saboun
Boosts your energy while warming your body and making you feel more active
Specially used in nail care centers for removing dead cells and healing the feet
Serves as a treatment for absorbing the humidity from the body leaving your body light and fresh
Can be used for the body in the bathtub for a complete treatment
This peculiar sea salt is your ticket to a world of warmth and freshness. The naturally extracted salt from the sea blends with the zesty ginger and lemon grass to boost your energy while warming your body and making you feel more active. The sea salt detoxifies your body from all fungus, bacteria and protects your skin while refreshing your soul. This product is especially used in nail care centers for removing dead cells and healing the feet. It also serves as a treatment for absorbing the humidity from the body leaving your body light and fresh. It can be used for the body in the bathtub for a complete treatment.
Usage: put a small amount in warm water and soak your feet for 10 minutes until all strains, bacteria and fungus are absorbed from the body then rub your feet deeply with the sea salt until removing all dead skin from your heels then wash your feet with water. Use it 3 times a week for best results.Warning: keep away from heat.
Ingredients: Sea Salt, Sesame Oil, Sugar, Ginger Essential Oil, Lemon Essential Oil, Ginger Powder.