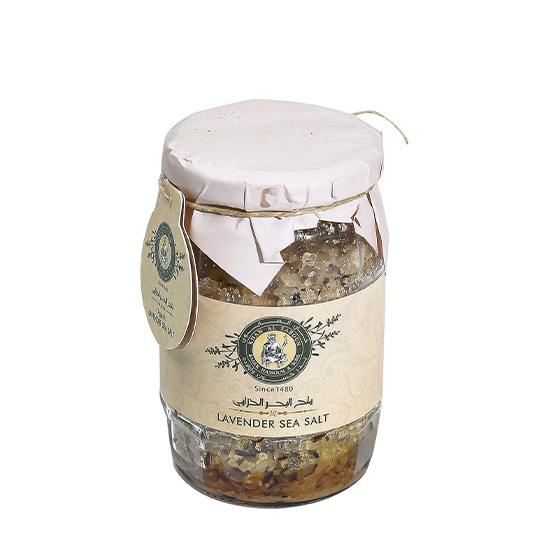 Khan Al Saboun Lavender Sea Salt 350g
Khan Al Saboun
Detoxifies the body from all diseases such as fungus, bacteria, and pain leaving the body in a tranquilizing state
Specially used in nail care centers for removing dead cells and healing the feet
Serves as a treatment for acne and can be used for the body in the bathtub for a complete treatment
The naturally extracted salt from the sea and the lavender petals taken from the botanic gardens of Bader Hassoun Eco Village created an exceptional product that has become a must-have in every house, spa and nail salon. When applied in water, this product creates a pleasure for it detoxifies the body from all diseases such as fungus, bacteria and pain leaving the body in a tranquilizing state. The lavender petals add a value to this product by providing a relaxing unforgettable scent. This product is especially used in nail care centers for removing dead cells and healing the feet. It also serves as a treatment for acne and can be used for the body in the bathtub for a complete treatment.
Usage: put a small amount in warm water and soak your feet for 10 minutes until all strains, bacteria and fungus are absorbed from the body then rub your feet deeply with the sea salt until removing all dead skin from your heels then wash your feet with water. Use it 3 times a week for best results.Warning: keep away from heat.
Ingredients: Sea Salt, Sesame Oil, Lavender Essential Oil, Lavender Leaf And Flower Extract.