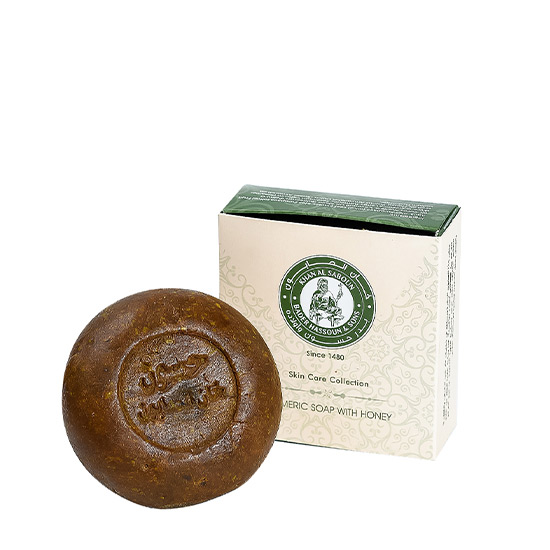 Khan Al Saboun Turmeric Honey Soap 100g
Khan Al Saboun
Purifies the skin, aids in decreasing acne traces, freckles,
Revitalizes skin cells through gently exfoliating excess skin and stimulating blood circulation
Tightens your skin and gives it a unified glow
This beautiful combination of the turmeric and honey purifies the skin, aids in decreasing acne traces, freckles due to its antioxidant properties and revitalizes skin cells through gently exfoliating excess skin and stimulating blood circulation, tightening your skin and giving it a unified glow. This soap has been uniquely created since it has passed through 4 different stages and has been prepared through a water bath.
Usage: wash your face with warm water then gently massage it with the soap for 1 minute and wash it again. Use it once daily for best result. For oily and mixed skin type, use it 2-3 times a week for 30 seconds for best result. Warning: If side effects appear, contact customer service. Keep away from heat.
Ingredients: Distilled Herbal Water, Olive Oil, Coconut Oil, Turmeric Powder, Honey, Sweet Almond Oil, Turmeric Oil, Vegetarian Glycerin, Soda Water.