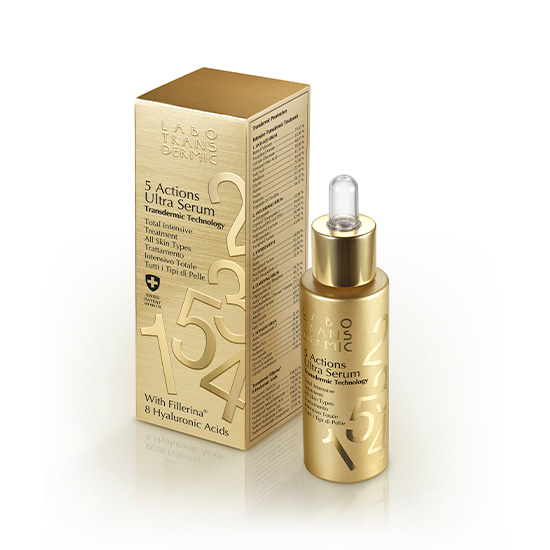 Labo Transdermic 5 Actions Ultra Serum 30ml
Labo Transdermic
Gives the skin an exceptional total-action transdermic treatment
Anti-age, anti-wrinkle, calming, clarifying and moisturizing/nourishing activity
The 5 Actions Ultra Serum is a real peculiarity of Labo Transdermic line. All the active molecules contained in the 5 Labo Transdermic Serums have been wisely blended together to achieve greater results in terms of effectiveness: it exerts a marked anti-age, anti-wrinkle, calming, clarifying and moisturizing/nourishing activity while giving the skin an exceptional total-action transdermic treatment.
Apply on face and neck with upward movements until completely absorbed. If necessary, follow with the daily cream treatment. During the treatment, it is recommended to limit the exposure to sunlight and to artificial UV rays. Shake before use. 30 ml bottle with dropper.
The Specific Active Ingredientscontained In 5 Actions Ultraserum Concentrate All Theactive Molecules Of The 5 Labotransdermic Serums. They Weretested To Verify Their Capabilityin Penetrating The Different Skinlayers, Where They Efficaciouslyplay Their Cosmetic Function: Theanti-Age, Anti-Wrinkle, Calming,Illuminating And Nourishingmolecules Provide The Skinwith An Extraordinary Completetransdermic Treatment. The 8Hyaluronic Acids With Differentmolecular Weights Of Fillerinapatent Differently Penetrate Thecutaneous Layers Of Both Epidermisand Dermis, Thus Providing Anessential Advantage To The Skin.