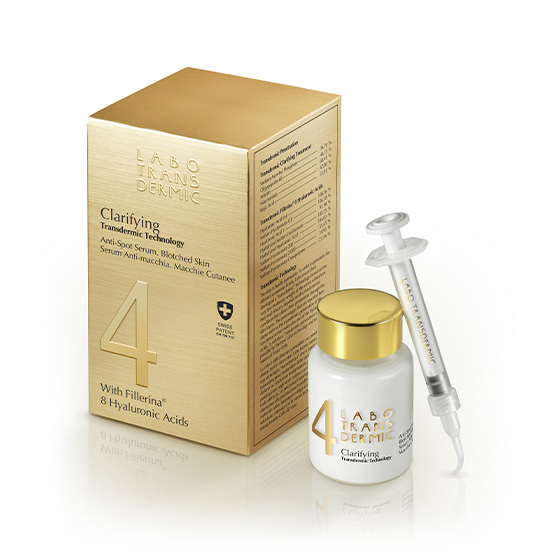 Labo Transdermic Anti-Spot Serum 20ml
Labo Transdermic
Strong clarifying effect
For dark spots, age spots and sun spots
Specific Transdermic Care for dark spots, age spots and sunspots. Sodium Ascorbyl Phosphate is a powerful anti-oxidant with a strong clarifying effect; Oligopeptide-68 is a peptide with a whitening effect; Arbutin is a strong inhibitor of melanogenesis; Niacinamide opposes the transfer of melanin up to skin surface and helps even the skin tone; Kojic Acid is a very effective dark spots depigmenting molecule that promotes the tyrosinase enzyme's inhibition.
To be applied preferably in the evening. By means of the special applicator, apply the required amount of Anti-Spot Serum on the dark spots of face, cleavage, hands, etc. Leave it on for 5 minutes, then gently tap with the fingers until complete absorption. To be used alone or in combination with the Equalizing Anti-Spot Cream.
The Specific Active Ingredients Contained In The Anti-Spotserum Were Tested To Verify Their Capability In Penetrating The Different Cutaneous Layers, Where They Efficaciously Play Their Cosmetic Function. Sodiumascorbyl Phosphate Is A Powerful Anti-Oxidant With A Strong Clarifying Effect; Oligopeptide-68Is A Peptide With A Whitening Effect; Arbutin Is A Strong Inhibitor Of Melanogenesis; Niacinamide Opposes The Transfer Of Melanin Up To Skin Surface And Helps To Even The Skin Tone; Kojic Acid Is A Very Effective Dark Spots Depigmenting Molecule That Promotes The Tyrosinase Enzyme Inhibition. The 8 Hyaluronic Acids With Different Molecular Weights Of Fillerina Patent Differently Penetrate The Cutaneous Layers Of Both Epidermis And Dermis, Thus Providing An Essential Advantage To The Skin.