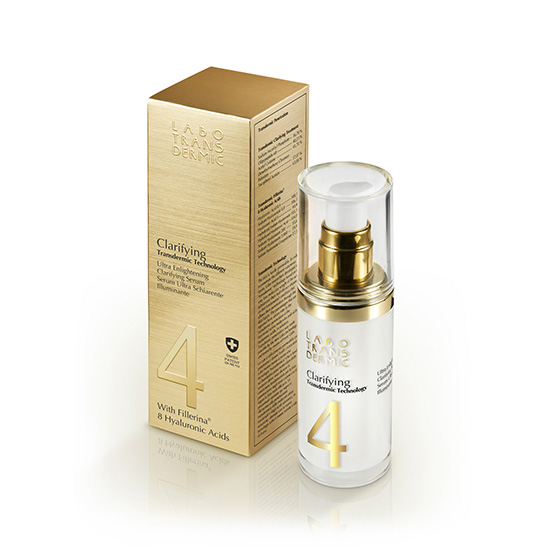 Labo Transdermic Clarifying Ultra-Enlightening Serum 30ml
Labo Transdermic
For dull, listless skin
Strong clarifying effect
Intensive Clarifying Enlightening Transdermic Care for Dull, Listless Skin. Sodium Ascorbyl Phosphate has a strong clarifying effect due to inhibition of the tyrosine synthesis; Oligopeptide-68 is a whitening peptide contrasting the pigmentation process; Acetyl Cysteine is a precursor of Glutathione which has a strong anti-tyrosinase activity; Dimethylmethoxy Chromanyl Palmitate clarifies the skin reducing melanogenesis and increasing skin brightness; Tocopheryl Acetate prevents cellular oxidative stress.
Use morning and/or evening after cleansing. Smooth onto face and neck and follow with the Clarifying Enlightening Cream.
The Specific Active Ingredients Contained In The Ultraenlightening Clarifying Serumwere Tested To Verify Their Capability In Penetrating The Different Cutaneous Layers, Where They Efficaciously Play Their Cosmetic Function. Sodiumascorbyl Phosphate Has A Strong Clarifying Effect Due To Inhibition Of The Tyrosine Synthesis; Oligopeptide-68 Is A Whitening Peptide Contrasting The Pigmentation Process; Acetyl Cysteine Is A Precursor Of Glutathione, Which Has A Strong Anti-Tyrosinase Activity; Dimethylmethoxy Chromanpalmitate Clarifies The Skin Reducing Melanogenesis And Increasing Skin Brightness; Tocopheryl Acetate Prevents Cellular Oxidative Stress. The 8Hyaluronic Acids With Different Molecular Weights Of Fillerinapatent Differently Penetrate The Cutaneous Layers Of Both Epidermis And Dermis, Thus Providing An Essential Advantage To The Skin.