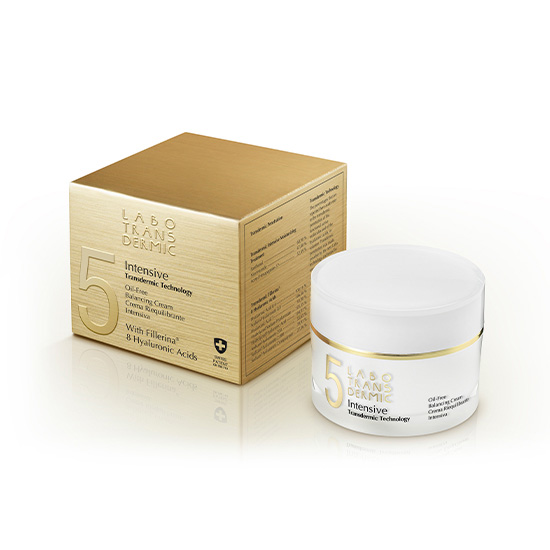 Labo Transdermic Oil-Free Balancing Cream 50ml For Oily Skin
Labo Transdermic
For oily and impure skin
Reduces pimples and blackheads formation
Intensive Balancing Transdermic Care for Oily, Impure Skin. Niacinamide has a soothing action on acne-prone skin; Threonine and Valine improve skin trophism; Zinc PCA carries out an antiseborrheic and antiseptic action thereby impeding bacteria colonization; Azelaic Acid hinders sebum production and therefore reduces pimples and blackheads formation. Smooth onto clean face and neck with upward movements until complete absorption.
Aplay morning /and or evening it can be used alone or after the Intensive Ultra Moisturizing Serum.
The Specific Active Ingredients Contained In The Oil-Freebalancing Cream Were Tested To Verify Their Capability In Penetrating The Different Cutaneous Layers, Where They Efficaciously Play Their Cosmetic Function. Niacinamide Has A Soothing Action On Acne-Prone Skin; Threonine And Valine Improve Skin Tropism; Zinc Pca Carries Out An Anti Seborrhoeic And Antiseptic Action Thereby Impeding Bacteria Colonization; Azelaic Acidhinders Sebum Production And Therefore Reduces Pimples And Blackheads Formation. The 8Hyaluronic Acids With Different Molecular Weights Of Fillerinapatent Differently Penetrate The Cutaneous Layers Of Both Epidermis And Dermis, Thus Providing An Essential Advantage To The Skin.