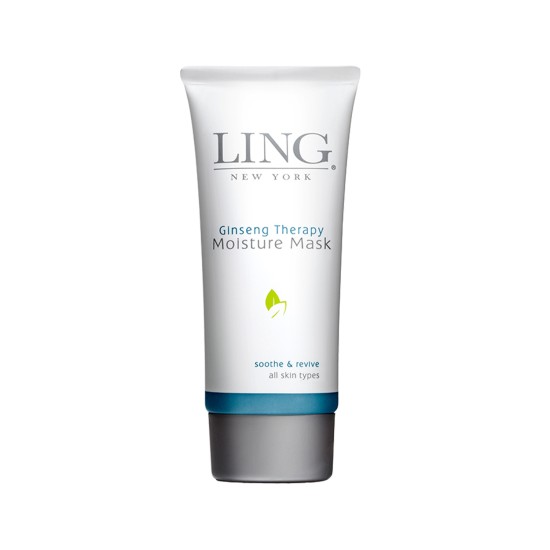 LING Ginseng Therapy Moisture Mask 90ml
LING
Smoothens & tones
Revives the skin for a healthier, glowing complexion
State-of-the-Art ingredients meet Asian beauty secrets in this therapeutic moisturizing mask formulated with aloe vera to soothe and panax ginseng to tone. Glycogen revives the skin for a healthier, glowing complexion. Ginseng is an Asian herb that has been used for thousands of years to improve overall health. Ginseng assists the body in restoring health without side effects. It can increase energy and endurance, prevent infections, and reduce fatigue and the effects of stress on the mind, body, and skin.
Apply to clean skin. Leave on for at least 15 minutes. Rinse off with tepid water. Use two to three times a week or as often as necessary for dry and dehydrated skin. For enhanced results, use a LING Solve Solution underneath mask. For best results, use with the LING at-home facial program.
Aqua (Water), Propylene Glycol, Polyvinyl Alcohol, Aloe Barbadensis Leaf Extract, Glycerin, Carbomer, Panax Ginseng Root Extract, Sodium Hyaluronate, Hydrolyzed Glycosaminoglycans, Phenoxyethanol, Ethylhexylglycerin. Key Ingredients: Panax Ginseng Is An Asian Herb That Has Been Used For Thousands Of Years To Improve Overall Health. Ginseng Assists The Body In Restoring Health Without Side Effects. It Can Increase Energy And Endurance, Prevent Infections, And Reduce Fatigue And The Effects Of Stress On The Mind, Body, And Skin. Propylene Glycol Acts As A Humectant At A Low Concentration Level. It Secures The Water And Takes It To The Outer Layer Of Your Skin. It Is Good Good For Skin Hydration And To Resolve Your Skin Dryness And Dull Appearance. It Also Reduces Signs Of Aging, And Good For Getting Rid Of Acne. Aloe Vera Has Cooling Properties And Is Anti-Inflammatory. It Helps To Moisturize The Skin, Boosts Healing Of Wounds, Fights Skin Aging, Reduces Infection And Acne, And Lightens The Blemishes On The Face. Glycogen Is A Safe And Natural Material That Promotes The Skin'S Health And Enhances Its Appearance. The Important Role Of Glycogen In Cell Growth, Wound Healing, And Moisture Retention Has Been Known For Many Years, Its Potential As An Anti-Aging Ingredient Has Been Proven Already.