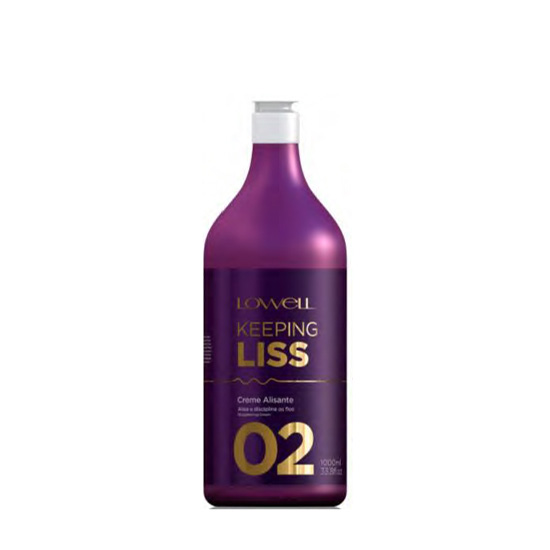 Lowell Keeping Liss Smoothing Hair Cream 1L
Lowell
AED 698.6
AED 998
(VAT inc.)
With Argan and Ojon oil.
Resulting in sturdier, healthier hair
Promotes smoother, healthier, and natural-looking hair
Lowell Keeping Liss is a progressive smoothing process with Argan and Ojon oil.
It has as main activity the Acid Amide, which promotes smoother, healthier, and natural-looking hair, removing the frizz and providing shine and softness.
Features an innovative, exclusive, high-performance formula that smooths the hair fiber by reducing volume, frizz, and flies away, providing unique discipline and naturally developing its luster and softness.
Its active component is an acid complex enriched with Ojon Oils and Argan and Karite avocado and butter which restructure the keratin from the strands by compacting it, resulting in sturdier, healthier hair.
apply the Purifying Shampoo all the way through, massaging them thoroughly and gently. Rinse and repeat the operation. Dry the hair until 100% of its moisture is removed. Separate the hair into locks (4 to 6 equal parts). Apply the Lowell Keeping Liss Slightening Cream in the proper amount, wick by wick. Wear gloves in this process. Comb the threads with a fine comb. Let the product act for 30 minutes. The hair should remain aligned, without holding or twisting. Thoroughly rinse the wires with cold water and remove any excess product. Thoroughly dry the hair with the hairdryer and then straighten the wick board by wick (fine wicks).Note: Virgin hair (which has never undergone chemical processes) should be left with the cream for 40 minutes.Result Smooth hair, straight and without the frizz.
Lowell Keeping Liss Is A Progressive Smoothing Process With Argan And Ojon Oil. It Has As Main Active The Acid Amide, Which Promotes Smoother, Healthier And Natural Looking Hair, Removing The Frizz And Providing Shine And Softness.Note: It Is The 1St Progressive Brush Grade 2 Tested And Approved By Anvisa.Contains: Lowell Keeping Liss Purifying Shampoo 500Ml/16,9Fl.Oz. Step 1: Its Formula Is Enriched With Anionic Polymer That Cleanses The Scalp And Hair, Removing Waste From Pollution, Dirt, Chemicals And Overlapping Treatments Without Drying The Wires. At The Same Time, Open Cuticles Of The Wires To Allow The Entry Of The Smoothing Cream.Lowell Keeping Liss Straightening Cream 1000Ml/33,8Fl.Oz. Step 2: Features An Innovative, Exclusive, High Performance Formula That Smooths The Hair Fiber By Reducing Volume, Frizz, And Fly Away, Providing Unique Discipline And Naturally Developing Its Luster And Softness. Its Active Component Is An Acid Complex Enriched With Ojon Oils And Argan And Karite Avocado And Butter Which Restructure The Keratin From The Strands By Compacting It, Resulting In Sturdier, Healthier Hair.Application: With Wet Hair,