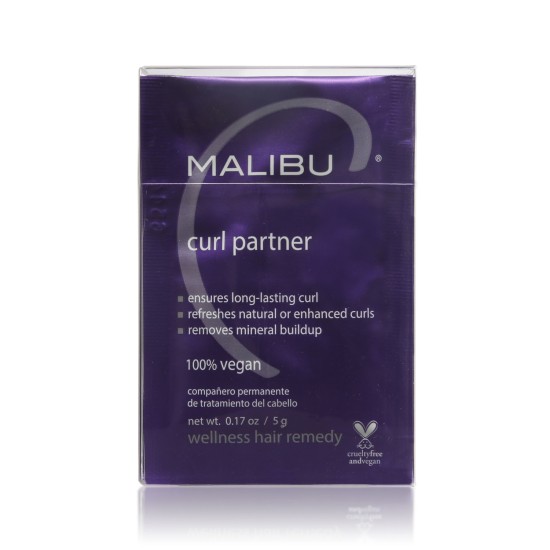 Malibu C Curl Partner Wellness Remedy 12 Packets
Malibu C
Ideal for natural curls, body waves and perms
Reveals brilliant, beachy waves with body and bounce
Ensures satisfaction by preventing cause for perm re-dos
Gentler and more effective than clarifying shampoos
Your go-to for existing curls or as prep for a perm service! Patented vitamin technology removes mineral and medicinal buildup, revealing healthier curls and ensuring a more effective service.
At least once a week: Shampoo, rinse & pour crystals across wet palm. Rub hands together, adding water to dissolve crystals. Apply and scrunch throughout hair, then allow to remain on hair for 5 minutes. Shampoo & rinse thoroughly. Apply conditioner if desired.* *Prior to chemical service: Use as directed above. Conditioner is not recommended prior to chemical service. Chemical service should be processed within 24 hours. *when using with white or non-pigmented hair, shampoo an additional time to ensure the crystalized vitamins are removed from the hair.
Glucose, Ascorbic Acid, Sodium Gluconate, Sodium Cocoyl Isethionate, Disodium Edta, Citric Acid, Xanthan Gum, Allantoin, Betaine.