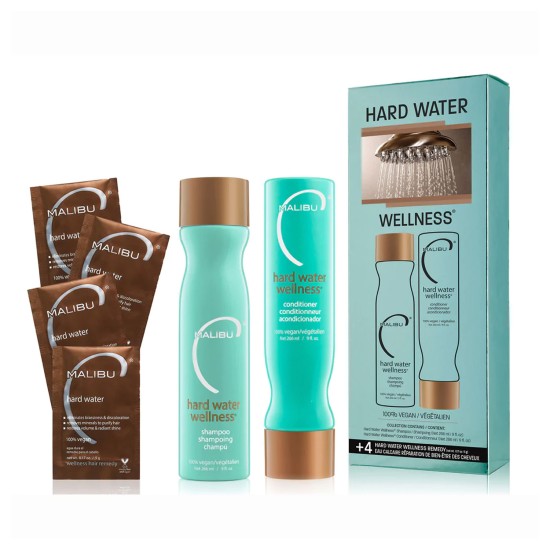 Malibu C Hard Water Wellness Collection
Malibu C
Removes surface mineral buildup (remedy)
Eliminates calcium and magnesium buildup
Eliminates discoloration
Protects against future mineral deposits
Safe enough for daily use
Ultra-hydrating for dry, damaged hair
This 100% vegan total wellness kit is predictably popular as it instantly removes and prevents discoloration, dryness, damage, and dullness to reveal your real hair s unmatched body and shine. Includes FREE Wellness Treatments!
Follow directions on back label of each product: Daily (or as often as desired) Hard Water Wellness Shampoo and Conditioner Weekly (or as often as desired) Hard Water Natural Wellness Treatment *when using with white or non-pigmented hair, shampoo an additional time to remove the crystalized vitamins from the hair.
Glucose, Ascorbic Acid, Sodium Gluconate, Sodium Cocoyl Isethionate, Disodium Edta, Citric Acid, Xanthan Gum, Betaine.