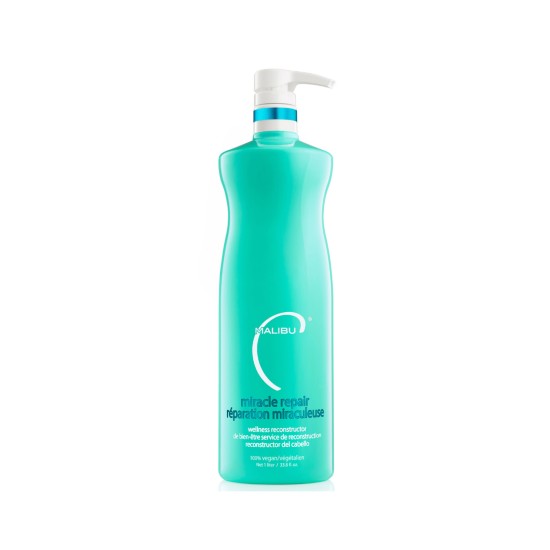 Malibu C Miracle Repair Hair Constructor 1 liter
Malibu C
Immediately repairs damaged hair
Seeks out weak, damaged areas of hair
Instantly detangles
Restores manageability
Nourishes and protects every strand of hair
Great for a once-weekly treatment, even better when used following a remedy sachet! A favorite of high-end stylists across the world and available for consumers, as well!
Directions: Following shampooing, apply Miracle Repair and allow to remain on hair for 3-5 minutes, then rinse. For severely damaged hair, apply Miracle Repair, cover hair with a Professional Processing Cap and expose to heat for 5-10 minutes, then rinse. Notes: May be used weekly or as often as desired. Not recommended immediately prior to a chemical service. When processed following a chemical service, heat is not recommended.
Allantoin: Protects Scalp And Prevents Irritation And Inflammation. Botanical Extract Complex: Promotes Skin Barrier Repair To Prevent Dry, Irritated Skin. Linseed Extract (Flax Protein): Gluten-Free, Plant-Derived Protein; Excellent For Hair Repair As It Penetrates And Immediately Strengthens The Hair Shaft. Panthenol: Pro Vitamin B5. Penetrates The Hair Shaft To Replenish Vital Moisture To Dry, Damaged Hair. Quinoa Protein: Gluten-Free Vegan Protein Functions As A Powerful Humectant And Penetrates To The Cortex Of The Hair Shaft Offering Significant Repair. Rice Protein: Gluten-Free Protein Enhances The Manageability And Body Of Hair. Smoothes Cuticle; Improves Gloss And Texture While Providing A Barrier On Damaged, Oxidized Hair.