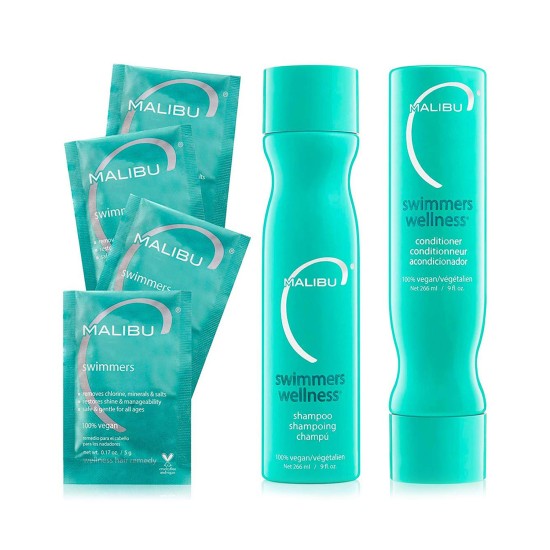 Malibu C Swimmers Wellness Collection
Malibu C
Nourishes, strengthens and protects
Removes damaging mineral deposits and toxins
Lifts out green discoloration by removing copper buildup
Restores manageability, vibrancy and moisture
Stringy, tangled, discolored swimmers hair? This exclusive system has everything you need to remove chlorine, copper, and other pool elements while gently cleansing and conditioning. Reveal shinier, healthier, tangle-free locks! Bonus Wellness Treatments! Sulfate-free shampoo and nutrient-rich conditioner work with the weekly remedies to keep your hair soft, shiny, and healthy!
Follow directions on back label of each product: Daily (or as often as desired) Swimmers Wellness Shampoo and Conditioner Weekly (or as often as desired) Swimmers Natural Wellness Treatment *when using with white or non-pigmented hair, shampoo an additional time to remove the crystalized vitamins from the hair.
Glucose, Ascorbic Acid, Sodium Cocoyl Isethionate, Disodium Edta, Xanthan Gum, Betaine.