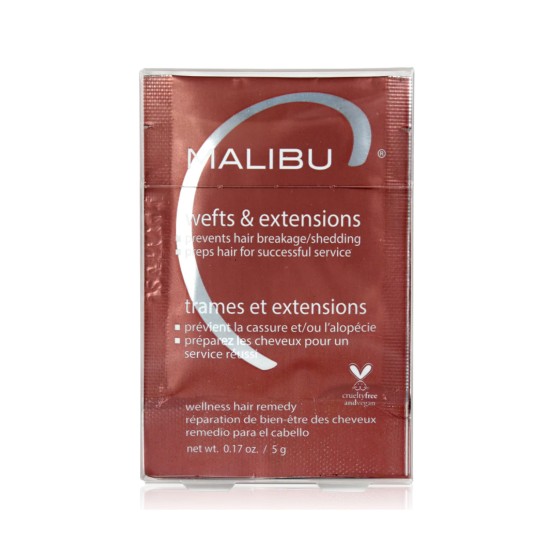 Malibu C Wefts & Extensions Wellness Hair Remedy 12 Packets
Malibu C
Prevents breakage
Prepares hair for extension application
Removes discoloration caused by oxidized minerals
Normalizes chemically stressed human and synthetic hair
Say goodbye to breakage, discoloration, and shedding! Exclusive, nature-identical vitamin technology gently removes mineral and product buildup from natural and synthetic hair, effectively stopping oxidative damage to your extensions and natural hair.
Shampoo, rinse and pour crystals across the wet palms.
Rub hands together, adding water (1 oz/30 ml) to dissolve crystals.
Apply and scrunch throughout hair, then allow to remain on hair for up to 5 minutes.
Rinse. Shampoo, and rinse thoroughly.
Apply conditioner, then rinse.
For damaged hair, Malibu C Miracle Repair is recommended.
Glucose, Ascorbic Acid, Sodium Gluconate, Sodium Cocoyl Isethionate, Disodium Edta, Xanthan Gum, Panthenol, Betaine.