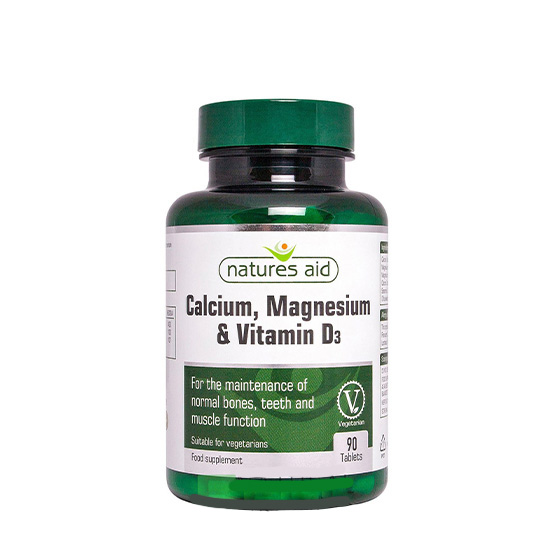 Natures Aid Calcium Magnesium And Vitamin D3 90 Capsules
Natures Aid
AED 41.83
AED 69.72
(VAT inc.)
Vegan friendly
2 tablets a day provides a minimum of your daily requirement
Free from GMO, gluten, yeast, dairy, soya, and nuts as well as being coated for ease of swallowing
Calcium and vitamin D help to reduce the loss of bone minerals in post-menopausal women. Low bone mineral density is a risk factor for osteoporotic bone fractures. Calcium and Vitamin D also contribute to the maintenance of normal bones and teeth. Vitamin D helps in the normal absorption and utilization of calcium. Magnesium also helps support the maintenance of normal bones and teeth, contributes to normal muscle function, and to a reduction in tiredness & fatigue. Just 2 tablets per day will provide the RDA of all these important nutrients.
Take 2 tablets per day with food.
Calcium Carbonate Prep. (Calcium Carbonate, Maltodextrin), Magnesium Oxide, Microcrystalline Cellulose, Calcium Citrate, Magnesium Citrate, Tablet Coating (Hydroxypropylcellulose, Hydroxypropylmethylcellulose), Anticaking Agent (Magnesium Stearate), Sodium Carboxymethylcellulose, Vitamin D3 Prep. (Cholecalciferol, Beta-Cyclodextrin), Anticaking Agent (Silicon Dioxide).