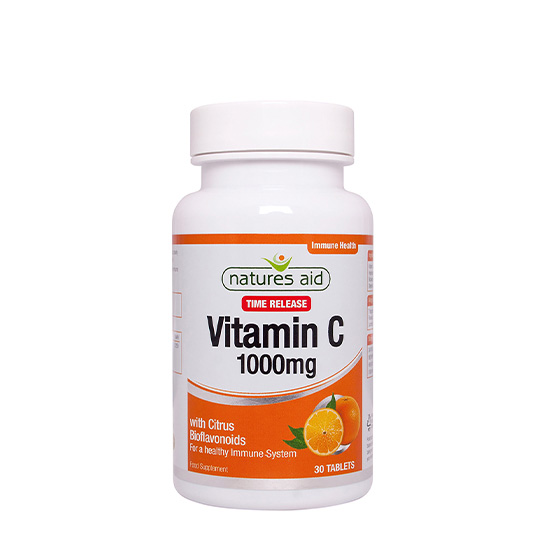 Natures Aid Vitamin C 1000Mg Time Release 30 Tablets
Natures Aid
AED 37.7
AED 58
(VAT inc.)
Psychological function
Energy-yielding metabolism
Function of the immune system
Functioning of the nervous system
Time Release Vitamin C with Citrus Bioflavonoids
Vitamin C contributes to normal collagen formation for the normal function of blood vessels, bones, cartilage, gums, skin and teeth. Vitamin C also contributes to the normal function of the immune system and supports immune function during and after intense physical activity. Vitamin C additionally protects cells from oxidative damage and increases iron absorption. As Vitamin C is water soluble, it can be washed out of the body after a few hours. Natures Aid Time Release Vitamin C is specially formulated to ensure slow release of the Vitamin C, therefore keeping it in the body for longer. This will optimise the benefits of Vitamin C supplementation.
Take 1 tablet per day with food.Do not exceed the recommended intake.
Vitamin C (As Ascorbic Acid), Di-Calcium Phosphate, Hydroxypropylmethylcellulose, Microcrystalline Cellulose, Citrus Bioflavonoids, Anticaking Agents (Vegetable Source Magnesium Stearate, Silicon Dioxide).