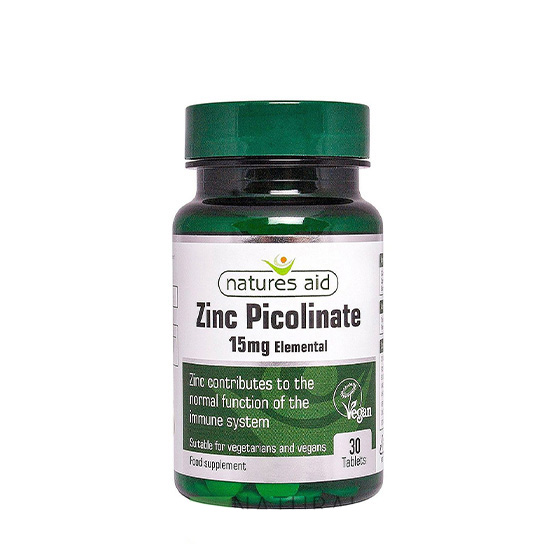 Natures Aid Zinc Picolinate 15Mg 30 Tablets
Natures Aid
AED 32.9
AED 47
(VAT inc.)
Normal function of the immune system
Acid-base metabolism
Carbohydrate metabolism
Cognitive function
Fertility and reproduction
Macronutrient metabolism
Metabolism of fatty acids
Normal metabolism of vitamin A
Normal protein synthesis
Zinc has many beneficial roles in the body, including contributing to: The maintenance of normal bones, hair, skin and nails, the normal metabolism of fatty acids, vitamin A & Carbohydrates. Normal DNA synthesis, normal protein synthesis, Normal cognitive function, Normal fertility and reproduction, normal testosterone levels in the blood, normal immune function and normal acid base metabolism. Zinc also plays a role in cell division. 1 natures Aid Zinc Picolinate tablet will provide the full RDA for zinc.
Take 1 tablet per day with food. Do not exceed the recommended intake.
Di-Calcium Phosphate, Zinc Picolinate, Microcrystalline Cellulose, Copper Gluconate, Anticaking Agents (Silicon Dioxide, Vegetable Source Magnesium Stearate), Sodium Carboxymethylcellulose.