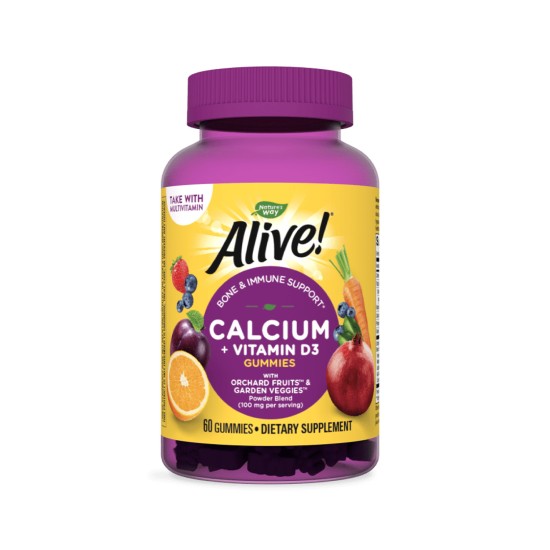 Natures Way Alive Calcium D3 60 Gummies
Natures Way
Support Bones & Immunity Health
Daily dose provides 1,000 mg Calcium and 2,000 IU Vitamin D3
Free from Gluten, Gelatin, Dairy, Yeast, Wheat
Alive calcium gummies give nutritional support to kids. The premium formula helps in supporting immunity, bone, breast health, and muscle function. The gummies are made with natural fruit flavors. You will receive valuable nutritional support with each daily serving of these calcium gummies.• Premium Formula helps support bone, immunity, breast health and muscle function• Each daily dose provide 1,000 mg of Calcium and 2,000 IU of Vitamin D3• Great Tasting Cherry and Strawberry Fruit Flavors • Made with Pectin (No Gelatin) • Orchard Fruits/ Garden Veggies blend of powder/extract/dried juice (100 mg per serving) • Sweetened with Tapioca • Free from Gluten, Gelatin, Dairy, Yeast, Wheat, Peanuts, Eggs, Artificial Flavours, or preservatives.
Adults chew 2 gummies twice daily with or without food, or as recommended by a healthcare professional.
Vitamin D3, Calcium, Phosphorus, Sodium, Orchard Fruits & Garden Veggies Powder Blend: Orange, Blueberry, Carrot, Plum, Pomegranate, Strawberry, Pear, Apple, Beet, Raspberry, Pineapple, Pumpkin, Cherry, Cauliflower, Grape, Banana, Cabbage, Tomato, Acai, Asparagus, Brussels Sprout, Cranberry, Cucumber, Pea, Broccoli, Spinach. Organic Tapioca Syrup, Cane Sugar, Purified Water, Pectin, Natural Flavors, Citric Acid, Sodium Citrate, Vegetable And Fruit Juice Colors, Coconut Oil, Beeswax.