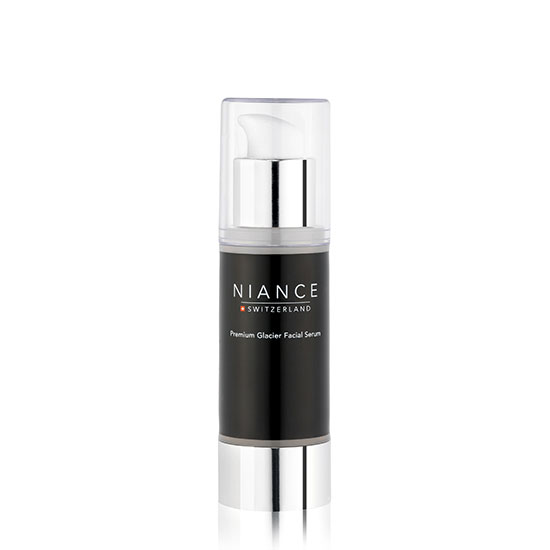 Niance Men Premium Glacier Facial Serum Anti Stress 30ml
Niance
AED 1866.6
AED 2074
(VAT inc.)

for Men's smooth, attractive skin
Serum is a highly concentrated skincare product with a special anti-aging effect
Properties NIANCE Premium Glacier Facial Serum with SWISS GLACIER COMPLEX® combines highly concentrated highly effective natural substances with ultramodern active agents from biotechnological research. This unique Men Age Defense glacier serum which gives your skin huge amounts of moisture is based on pure glacier water from the Swiss Alps.
NIANCE Premium Glacier Facial Serum contains pure nourishment for the skin. A special milk serum that contains essential micronutrients including vitamin B complexes, minerals, amino acids, and polypeptides promotes vital processes in the cells and stimulates the build-up of collagen in the deep layers of the skin.
Another substance with long-term intensive effect consists of the strengthened micro-algae extract and a combination of balanced polysaccharides. This also encourages the skin to produce its own collagen, which fills out wrinkles from deep within the skin. The build-up of a protective layer massively combats oxidative stress, so that the cells are not exposed to premature damage or destruction.
NIANCE Premium Glacier Facial Serum also contains cell plasma from yeast which soothes the skin and aims to accelerate cell renewal.
At the same time, caffeine stimulates cell circulation and prevents bulges.
After cleansing, apply NIANCE Premium Glacier Facial Serum every morning and evening, and during the day as well if needed.
Allow NIANCE Premium Glacier Facial Serum to absorb, leaving no residue
Temple Viper ProteinMilk SerumYeast Cell PlasmaSaltlake Micro Algae ExtractMicro Algae ExtractSwiss Glacier Complex®